Stephanie Gelbert, originally from Matthews, North Carolina, graduated in 2012 with a B.S. in elementary education. Currently, she is a fourth-grade teacher at Rama Road Elementary in Charlotte, North Carolina.
"Appalachian is known as one of the best teaching colleges around AND it's in the mountains - how could I pass that up?"

Gelbert recently received her National Board Certification in the Middle Generalist category. Her advice to new teachers pursuing their certification: Have a buddy.
"There's no way I could've gotten through the process without a teacher friend who was also working on her national boards," said Gelbert. "Having someone to bounce ideas off of, go to study groups with, and spend weekends working with kept me motivated through the whole process."
She also encourages those seeking certification to find teachers who are certified and ask for advice. "You can never ask too many questions."
Gelber also adds to never give up. "It took me 3 tries but it's well worth it in the end. If you don't certify the first time, learn from it. Analyze yourself as a teacher and keep going."
Impacting Education in Her Community
Gelbert is making an impact on education in her community. She leads the Discovery Student Ambassador club at her school, which focused on project-based and STEM lessons.
As an eight-year veteran teacher, Gelbert also supports future educators by hosting student teachers in her classroom.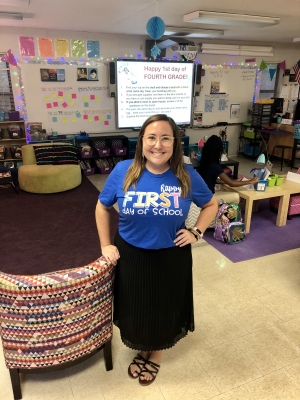 Tags: