Last semester, Appalachian State University undergraduate students and Appalachian State University Academy at Middle Fork K-5 students took a trip around the world without leaving North Carolina. The Appalachian Community of Education Scholars (ACES), housed in Appalachian's Reich College of Education (RCOE), paired with the Fulbright Teaching Excellence and Achievement Program (Fulbright TEA), which included participants from around the world, to create an interactive Passport Project, bringing a global perspective of education to the students at the Academy.
The Fulbright TEA program is sponsored by the U.S. Department of State with funding provided by the U.S. Government and administered by IREX, a nonprofit organization committed to global development and education. It is governed by policies established by the Fulbright Foreign Scholarship Board. Appalachian's Office of International Education and Development (OIED) hosts the program's participants during their stay.
"This project allowed our ACES students to not only have a touchpoint and access to a K-5 school setting in their first semester at Appalachian, but it also gets the Academy students engaged in global learning," said Megan Kasper, Assistant Director for Student Engagement in the RCOE's James Center for Student Success and Advising.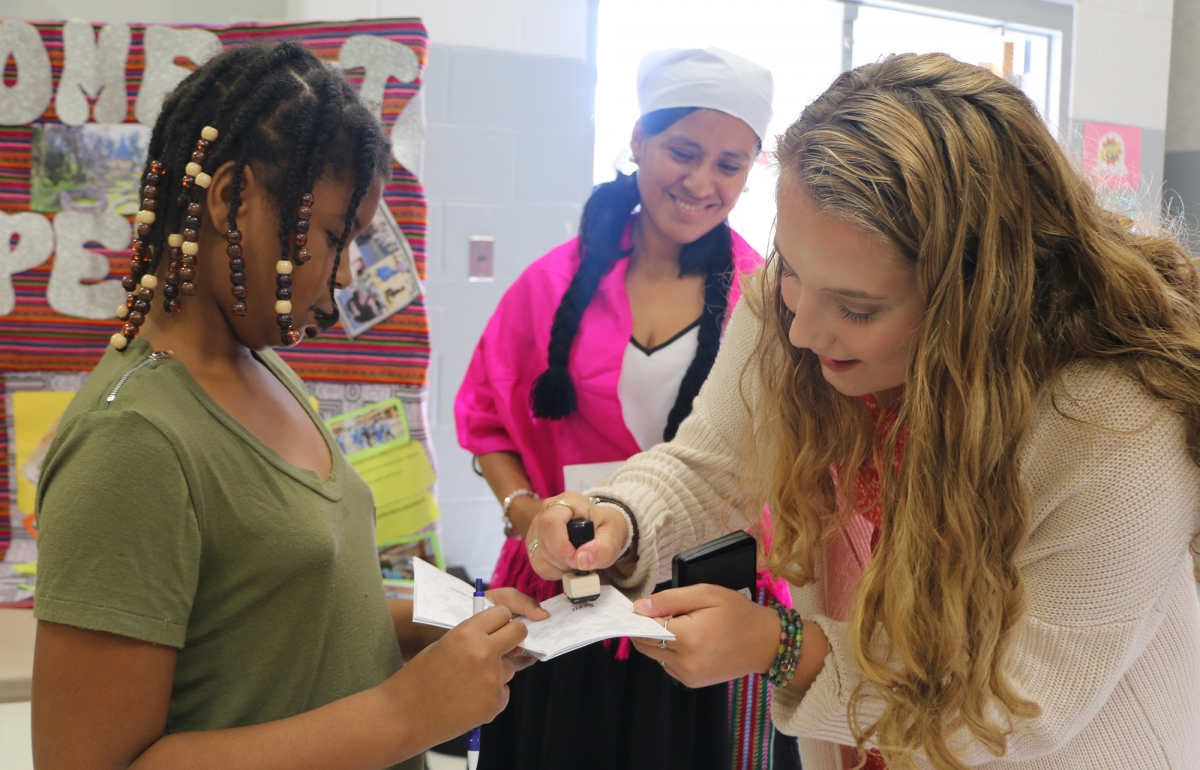 ACES student stamps Academy student's passport. Photo by Rebekah Saylors
Another benefit of this project is that it allows students, both at Appalachian and at the Academy, access to an international experience.
"I'm really passionate about how we can find access to global opportunities without even having to leave our state or our town, and that's why I was so excited to do this project," Kasper continued. "It exposed our ACES students to different countries and perspectives without having to leave the Appalachian campus, and now the Academy students are going to walk away with 19 new perspectives."
"We are committed to giving a global experience to all of our students," said Dr. Maria Anastasiou, Executive Director for Appalachian's OIED and Fulbright TEA Program Director.
"About 25% of our students study abroad every year," Anastasiou noted. "So bringing the Fulbright TEA participants and purposefully matching them up with the students so they learn very specific things about their discipline and educational system in another country is providing that global experience to those students who might never go abroad."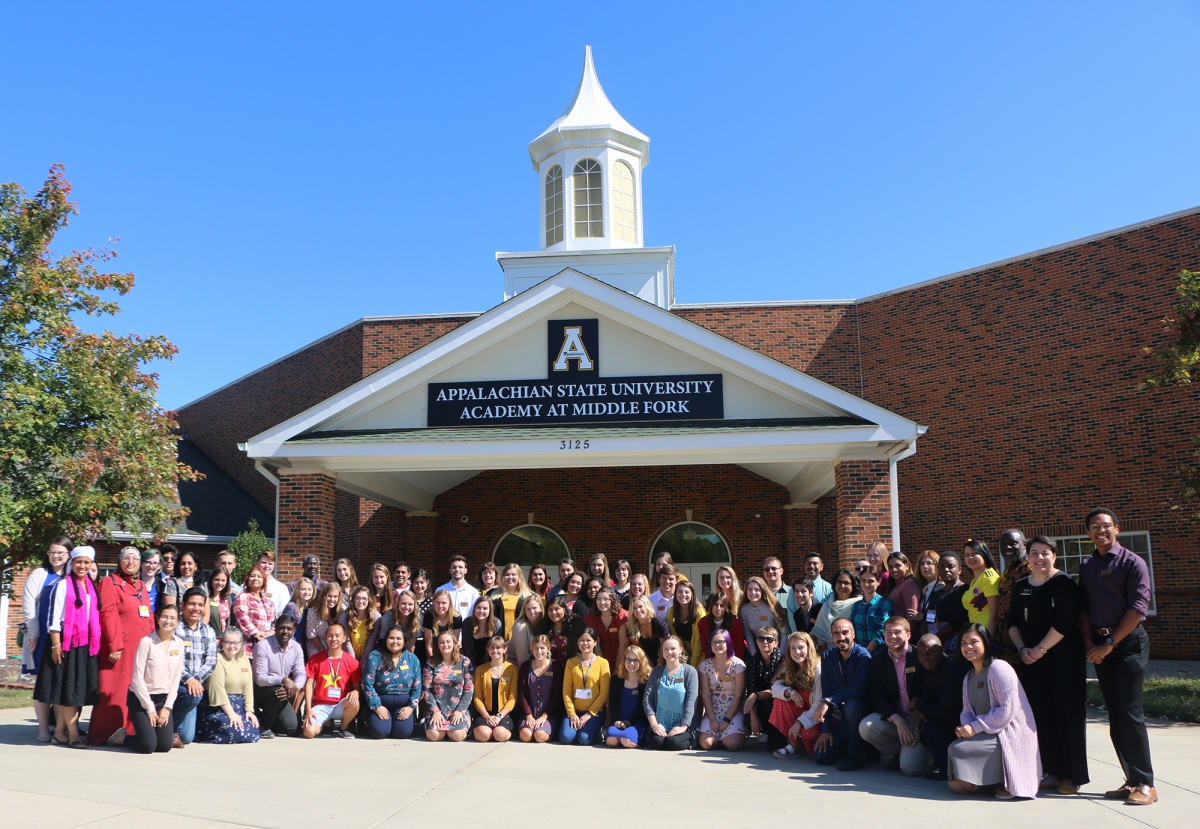 ACES students and Fulbright TEA Participants at the Academy at Middle Fork. Photo by Rebekah Saylors
Senior ACES and English major from Cary, North Carolina, Katie Songey, was inspired to study abroad as a sophomore after her freshman experience, and now after working with OIED and the Fulbright TEA participants, she is inspired to apply for a Fulbright program.
"I think the more you interact with other cultures and people from places you really don't know anything about, the more humble you become," said Songey. "And I think that being able to have that perspective will really help me in the classroom."
The Passport Project
The Passport Project was a collaborative and interactive project completed in the First Year ACES course - CI 3531 Seminar on Teacher Leadership. Kasper and Dr. Beth Campbell, chair of the Department of Curriculum and Instruction, served as instructors for the course. The project featured 19 different booths that Academy students visited to learn about education in other countries from Fulbright TEA participants.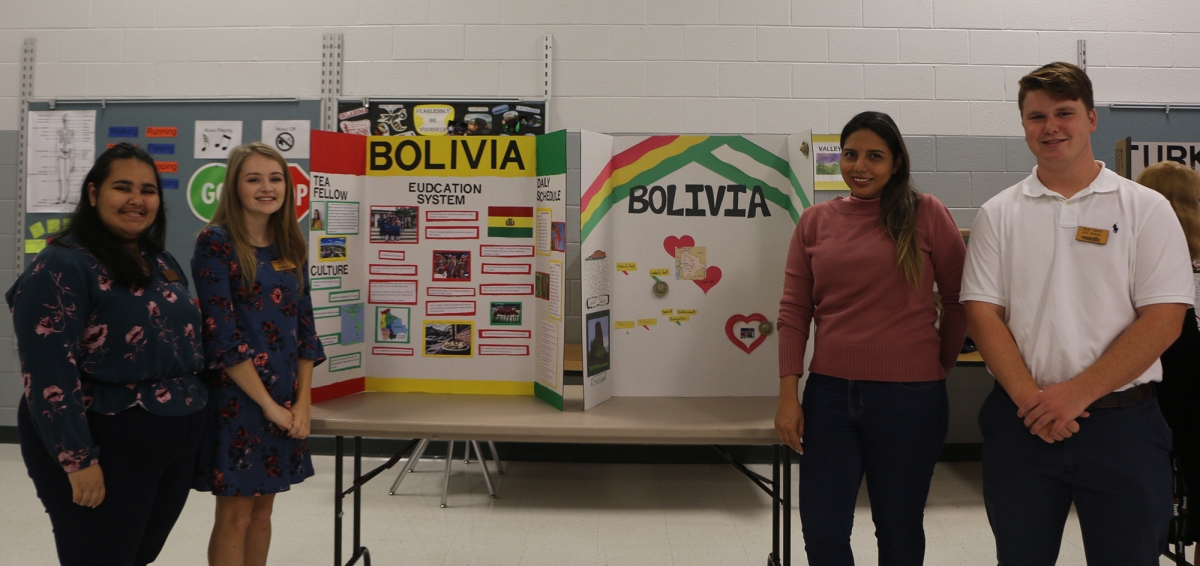 An example of one of the booths. Photo by Rebekah Saylors
ACES students were matched with a Fulbright TEA participant, and they researched their participant's country, specifically the educational systems. The purpose of the assignment was:
To introduce ACES students to other cultures and perspectives;
To learn appropriate research methods; and,
To create a lesson plan for the Academy students.
Academy students were given a passport that was stamped at each booth they visited. "In the span of a few hours, Fulbright TEA participants and ACES students transported the young learners to 19 countries and opened their worlds to new possibilities," said Anastasiou.
Though this was the first year for the Passport Program, ACES has collaborated with OIED and the Fulbright TEA Program for several years.
"OIED will continue to make ACES a priority collaboration for our Fulbright TEA participants, as the impact on both sides is immeasurable. Including the Academy at Middle Fork this year, in a meaningful way, gave us a chance to make a global impact there as well," noted Anastasiou.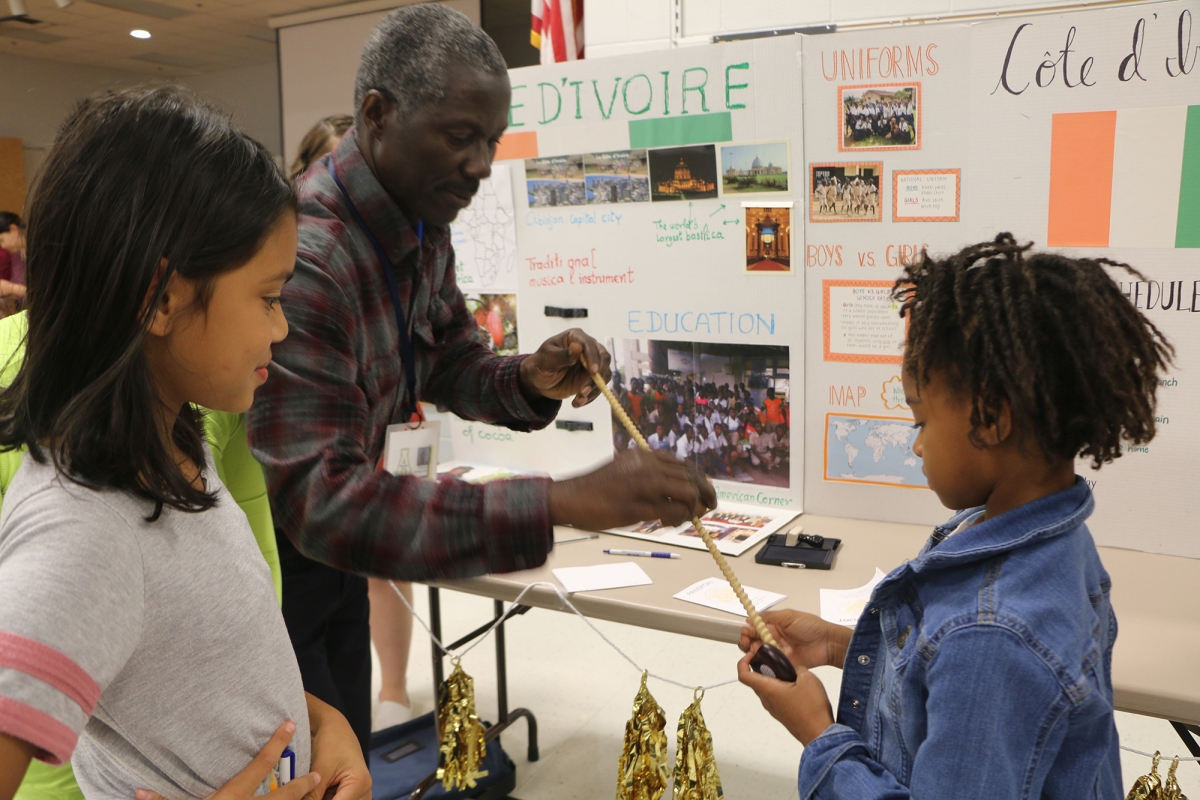 Academy students learning about the musical instruments of Nigeria. Photo by Rebekah Saylors
First-year mathematics secondary education major from Huntersville, North Carolina, Gabbi Goelz, is already planning on implementing what she learned from this project in her future classroom. Her Fulbright TEA participant, Gloria Puiquin Rojas from Peru, shared this quote with the group: "To be a teacher you need love, principle, passion, and patience."
Puiquin Rojas shared she would also be implementing new strategies she learned not only from the other participants but also from the ACES students.
Connecting With One Another
Not only did Appalachian and Academy students learn about other countries, but they were able to speak and interact directly with people from those countries and make connections.
First-year biology secondary education major from Apex, North Carolina, Nikolai Peterson, is originally from the country of Georgia. He was adopted as a child and raised in the U.S. Hearing that there would be a Fulbright TEA participant from Georgia - Lela Maghularia, Peterson was insistent to be paired with the participant so he could learn more about his home country.
"I knew next to nothing about Georgia, so this project definitely exposed me to a lot of information about where I'm from," said Peterson. "I"m biologically Georgian, but culturally American, and this project allowed me to join the two cultures together."
This project has inspired Peterson to study abroad and learn more about his home country.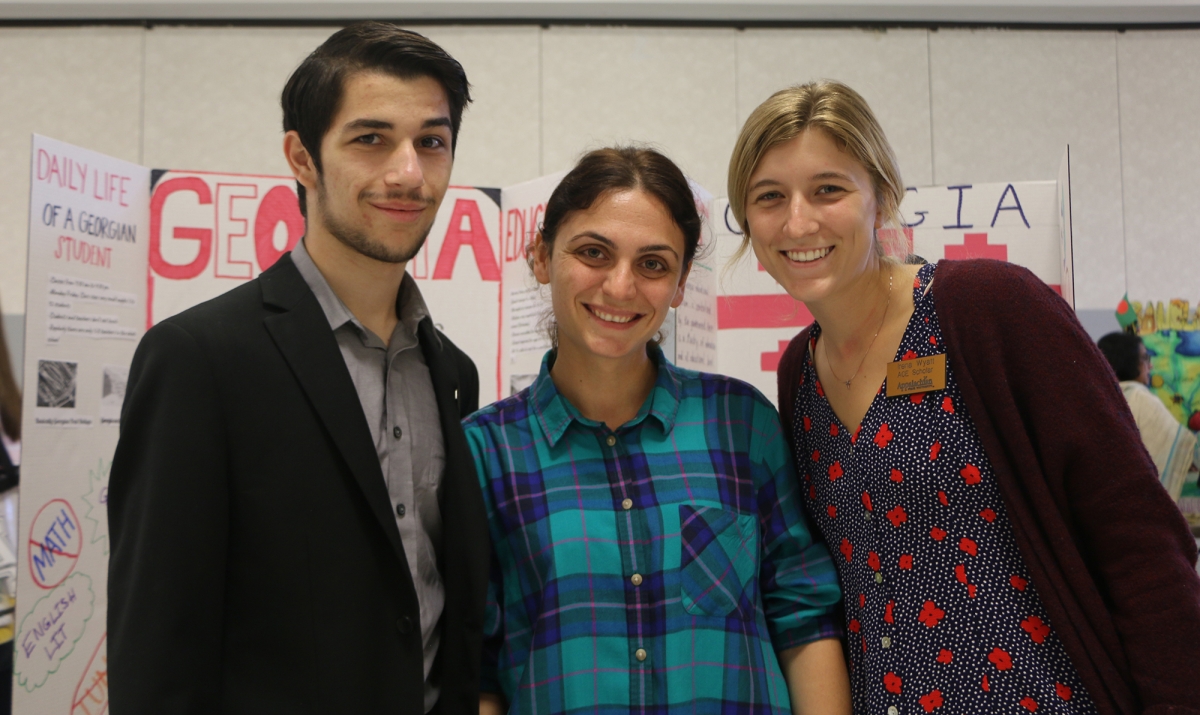 Left to Right: Nikolai Peterson, Lela Maghularia, and Irena Wyatt. Photo by Rebekah Saylors
Many of the Academy students speak Spanish as a first or second language. They were able to interact with the Fulbright TEA participants from Bolivia, Colombia, Nicaragua, and Peru.
Third-grade teacher and Appalachian alumna, Julie West '19, said her students were very excited to attend the presentations. "We have students from several different countries, so they started automatically making connections with some of the places I called out," said West.
"I think being able to see many different cultures is very valuable; it's beneficial for them to be able to see even more than just their friends in the classroom," she continued. "There are places represented here that I'm sure they've never heard of - I think that will be really great for them."
Some of the connections went beyond language and culture. A couple of Academy third graders shared they learned earth science - cocoa beans from Nigeria - while others learned physical education - yoga poses from India.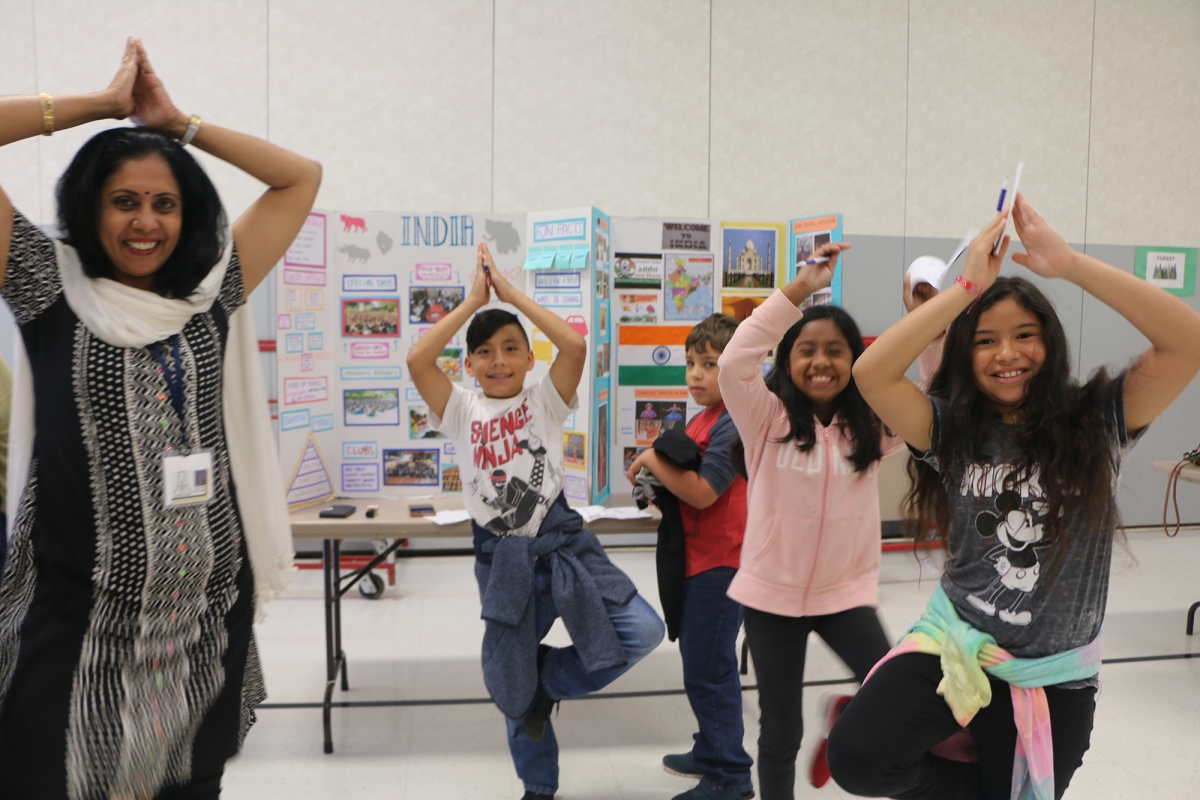 Students learning yoga. Photo by Rebekah Saylors
About ACES
ACES is a four-year program for future teachers focusing on mentoring, leadership, service, and personal and professional development. ACES is a diverse community that is rich in tradition and school spirit. Members are active participants and leaders within the Appalachian Educators Club, in addition to a wide variety of campus activities from academics to athletics and religious organizations. The ACES program provides a sense of camaraderie for future educators that promotes a passion for teaching.
About Fulbright TEA Program and Participants
The Fulbright TEA program provides outstanding secondary school teachers of English, social studies, math, science, and special education with unique opportunities to develop expertise in their subject areas, enhance their teaching skills and increase their knowledge about the United States.
Teachers come to the United States from all world regions for a six-week academic program at a U.S. university graduate school of education, including intensive training in teaching methodologies, lesson planning, teaching strategies for their home environment, teacher leadership, and the use of instructional technologies. The program also includes field experience at a secondary school to engage participants with American teachers and students.
Learn more about each of the Fulbright TEA participants for 2019: https://international.appstate.edu/about/research-and-development/fulbright-teaching-excellence-and-achievement-appalachian-2019
About Academy at Middle Fork
The Appalachian State University Academy at Middle Fork, located in Walkertown, North Carolina, serves approximately 300 K–5 students. The academy provides a balanced education through the implementation of research-based practices, state-of-the-art literacy instruction, and exemplary classroom instruction and administration. Learn more at https://middlefork.appstate.edu.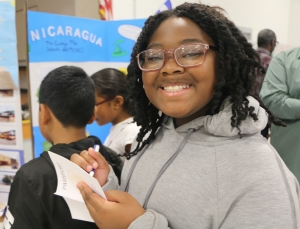 Tags: