The annual Association for Constructivist Teaching (ACT) conference will be held on Saturday, October 21, and Sunday, October 22, 2023, on the campus of Appalachian State University in Boone, North Carolina. There is also a virtual option available. The conference theme is Advocating for learning journeys: Constructivism as the language of learning.
Dr. Amy J. Malkus, associate professor of early childhood education at East Tennessee State University, will deliver the keynote address on the topic of "From Algorithms to Imagination: Crafting a Constructivist Learning Voyage with AI".
Register today! Questions? Contact Dr. Randa Dunlap, assistant professor in the Department of Child Development, Literacy, and Special Education.
The ACT is a professional organization promoting children's construction of knowledge in all domains – intellectual, physical, social, emotional and moral.
ACT invites attendees from all sectors involved in educational leadership from across the globe and current App State students.
Event Schedule
Please plan to join on Saturday, October 21, 2023, from 7:30 am - 5:45 pm and on Sunday, October 22, 2023, from 8:00 am - 12:30 pm. For full descriptions, please review the online event schedule. All sessions will take place in the Reich College of Education Building and will appear on the schedule using Eastern Time. Zoom links will be provided for virtual participants to attend the keynote presentation, virtual sessions, and featured sessions. Each virtual session will have an assigned moderator on site (rooms 306 and 308).
Saturday, October 21
7:30 am - Check-in and Registration (Room 124)
8:00 am - Welcome from Dr. Kelly Russell, ACT President (Room 124)
8:15 am - Keynote Presentation from Dr. Amy J. Malkus (Room 124)
9:30 am - Breakout Session 1 (various locations)
11:00 am - Breakout Session 2 (various locations)
12:15 pm - Lunch (Room 124)
1:30 pm - Breakout Session 3 (various locations)
3:00 pm - Breakout Session 4 (various locations)
4:30 pm - Breakout Session 5 (various locations)
Sunday, October 22
8:00 am - Breakfast available (Room 124)
8:15 am - Featured Session: A Tribute to constance Kamii (Room 124)
9:30 am - Opportunity for experiential learning (Room 124)
11:00 am - Featured Session: A Constructivist Panel Discussion (Room 124)
12:15 pm - Closing Remarks (Room 124)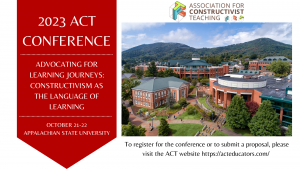 Tags: