BestSchools.org has released their rankings of best online master's in educational administration degree programs
Appalachian State University has been ranked 13th respectively.
Online Master's Educational Administration Degree Program at Appalachian State University
Appalachian State University enrolls 19,000 students in 150 majors. Students learn in classrooms with a 16:1 student-to-faculty ratio. The school's eLearning options consists of degree completion and graduate programs in various fields. Experienced educators enroll in the 36-credit master of school administration (MSA) on a part-time basis. The online cohort program leads to North Carolina initial licensure in school administration.
MSA participants examine the principal's role in evaluating the processes and systems involved in continuous school improvement. The curriculum immerses students in study of school law, the principalship, how to manage resources in schools, and theory and development in educational organizations. A three-course series focuses exclusively on research methods, data-driven school leadership, and school improvement planning. Students use electives to pursue areas of interest such as curriculum planning and digital technologies in education. Learners engage in administrative duties that align with MSA's goals and objectives during an internship which students typically arrange at their home school.
Faculty use a mix of asynchronous and synchronous delivery to teach courses in one of the best online master's programs for education administration. Students take a comprehensive exam to complete the MSA. The program admits students in the fall, and they complete the degree in six semesters. Admission requires a bachelor's degree, the GRE or MAT, North Carolina 'A' or 'M' licensure (or the equivalent if residing in another state), and at least three years of teaching experience.
Appalachian State University is regionally accredited by the Southern Association of Colleges and Schools Commission on Colleges (SACSCOC).
BestSchool.org's Ranking Methodology
To meet this challenge—and thereby provide you with the most useful and insightful educational rankings on the Internet—TheBestSchools.org formulates our rankings based on five informational categories (six, when considering online schools). The major metrics and qualities for which we rank are these (with expanded, detailed considerations and weights listed):
Academic excellence based on a school's curriculum generally or within the selected discipline [weight = 25%]
Strength of faculty scholarship [weight = 25%]
Reputation [weight = 20%]
Financial aid [weight = 10%]
Range of degree programs [weight = 20%]
Strength of online instruction methodology (if applicable) [weight = 25%; subtract 5% from each of the above for online schools/programs]
About BestSchools.org
Great jobs and career success depend on securing the right knowledge, skills, and credentials. For most of us, that means a college or university degree. Nowadays that also means choosing between an online or campus-based education.
Through our ranking, degree, and career articles, TheBestSchools.org empowers you to make informed decisions about your education. Through our feature, resource, and The Quad articles, we help you to gain the most out of your educational experience.
Education demands a significant investment of time and money. In finding the best school and degree program for you, we are dedicated to making your education rewarding and fulfilling.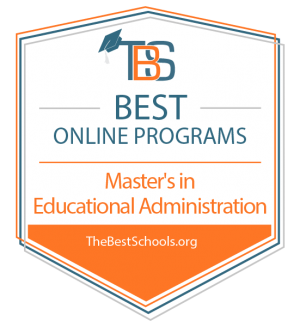 Tags: