Bevin Hunter was named the Appalachian State University Student Teacher of the Year for the 2021-2022 academic year in the Reich College of Education (RCOE) video message. Hunter, originally from Raleigh, North Carolina, graduated with her Bachelor of Science in special education, general curriculum on May 6, 2022.
"When it was announced that I had been selected as Student Teacher of the Year, due to sheer shock and excitement, I had no words besides, 'It's me'," said Hunter.
Reflecting on what the Watauga High School and App State community have done for her to achieve this award, Hunter was appreciative of:
"My students who came to class each day with respect, determination, and kindness, seeing me as their teacher and not as 'just an intern.'
The educators who pushed me to be independent in the classroom with the constant reassurance of support and feedback.
My supervisor, who both challenged and supported me, giving counsel whenever I was confused.
My past professors who supported me with encouragement, furthering my education, and being selected as a finalist for this award."
"This past Spring, I put my best foot forward always, not for recognition, but in efforts to positively impact the lives of everyone I crossed paths with," she noted. "Being selected for such a prestigious and honorable award reassures me that I succeeded in that mission and was appreciated by my Watauga High School and App State community."
"This award further motivates me to continue challenging myself go be the best teacher, student, tutor, and colleague, through unwavering support, differentiation, understanding, patience, and determination," she added.
Hunter completed her student teaching with Cori Braxton at Watauga High School in Watauga County Schools.
"Not only did Bevin excel in the classroom, but during her practicum experience, she demonstrated teaching ability and confidence that mirrors that of a veteran teacher," said Dr. Aftynne Cheek, associate professor and undergraduate program director for special education. "The way she connected with her students was natural and they loved every moment with her."
"We are proud of her accomplishments and know she will change the lives of many students with special needs," she added.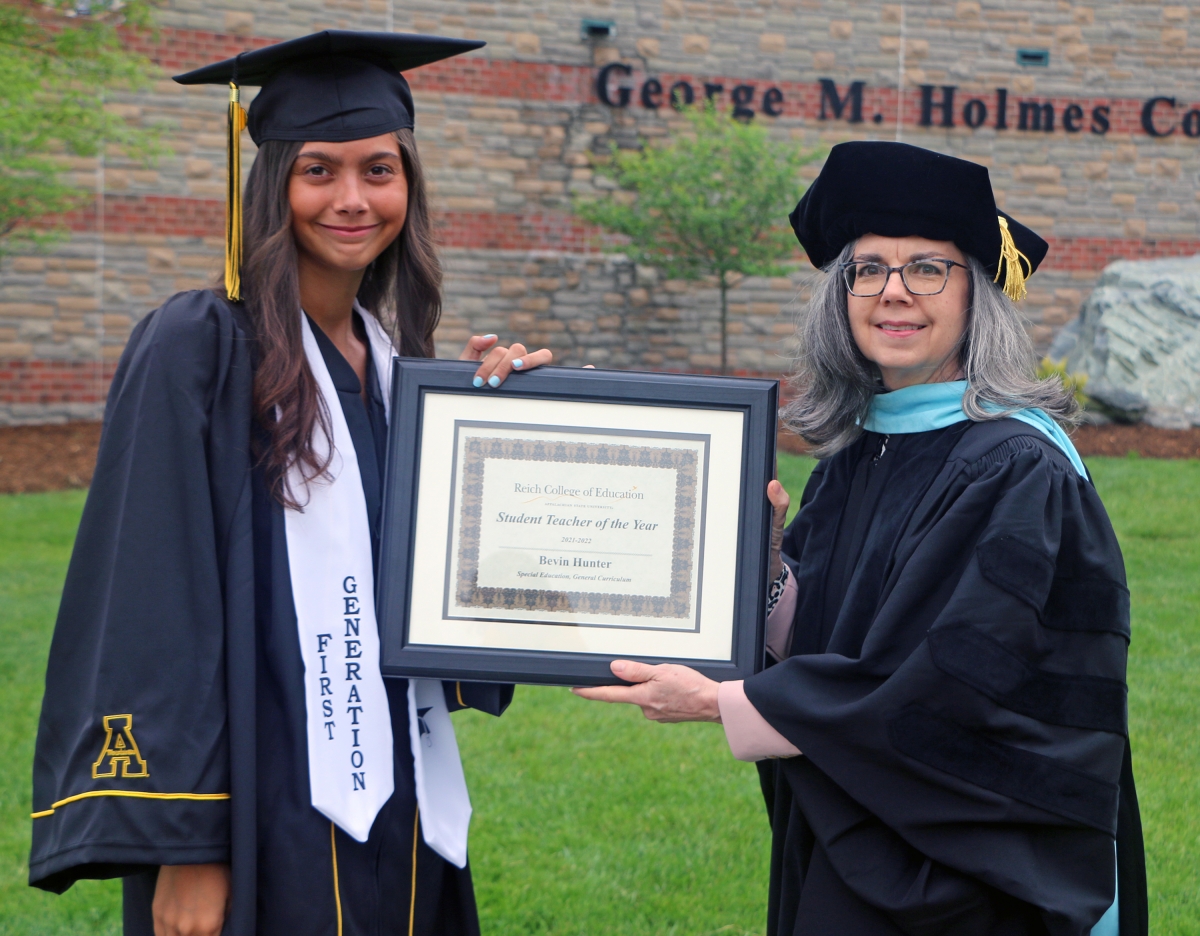 Bevin Hunter is presented with the Student Teacher of the Year Award by Dr. Monica Lambert.
"As a first-generation college student, I am aware of the privilege of education," said Hunter. "I chose App State because their credible teacher preparation program, specifically in special education, allowed me to enter into an inclusive environment that created an equitable playing field for educational opportunity."
"Their inclusive environment did not stop alongside my professors and colleagues within the walls of the classroom, but dispersed throughout the Boone community," she continued. "It is already a challenge as a first-generation student, but this challenge brought reassurance of support and constructive feedback."
Since middle school, Hunter knew she wanted to be an educator but was unsure of the subject area. After an experience working with a toddler diagnosed with Down Syndrome and Leukemia, she "learned the importance of differentiation, empowerment, understanding, and patience."
Following graduation, Hunter will her academics for an additional year to pursue a Master of Arts in special education, along with graduate certificates in autism and emotional behavioral disorders. She began these programs her senior year through the Accelerated Admissions program.
After completing her graduate programs, she plans to move to Austin, Texas, to work as an exceptional children's teacher in a diverse demographic to reach both students with and without disabilities and multilingual students.
"App State's education program supports the growth and development of so many high-quality teachers, and I want to take the skills ingrained in me to an area that will push me to continue learning, growing, and evolving as an educator, professional, and learner," said Hunter.
Hunter will represent Appalachian State University at the state level for the Student Teacher of the Year, which is offered by the North Carolina Association of Colleges of Teacher Education (NC-ACTE). The NC-ACTE winner will be announced at the organization's annual fall meeting, September 21 - 23, 2023. This is the seventh year in a row that NC-ACTE will recognize an elite group of student teachers from each of its member institutions.
Selection Process
Students are nominated by their clinical educators, University Field Supervisors, and faculty members based on their teaching, professionalism, and overall effectiveness in the classroom. Nominated students then submit a reflective narrative on their student teaching experience and three letters of recommendation. Finalists for each semester (fall and spring) are selected to compete for the top award.
"I am so proud of all of our students," said Dr. Monica Lambert, Reich College of Education Associate Dean. "They are transitioning from a student of teaching to a teacher of students."
"I look forward to seeing all of their great accomplishments future educators," she added.
Eleven student teachers were named finalists for the Student Teacher of the Year Award. They are Kinsey Crabb, Lydia Dancy, Jordan Dennison, Margie Westcott, David Childers, Mary Alice Faunce, Bevin Hunter, Cat Keith, Madison Shull, Cassidy Upton, and Mason Walker. Read about each of the finalists.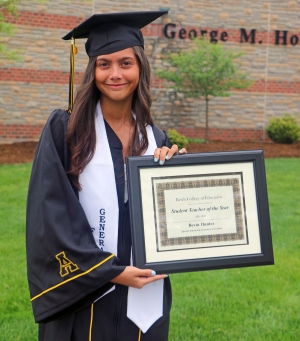 Tags: