The Reich College of Education (RCOE) at Appalachian State University will host a geodesic dome building event:
Date: Thursday, February 22, 2018
Time: 3:00 pm
Location: RCOE Rotunda
Construction and installation will take approximately three hours. All RCOE students, faculty and staff as well as campus community members are invited to participate.
This event, part of the Black Mountain College (BMC) Semester at Appalachian, is being coordinated by William Schumann, Director for the Center for Appalachian Studies, and project manager and graduate student, Kelsey Wagner, with assistance from ROCE Black Mountain Fellows, Jeff Goodman and Damiana Pyles.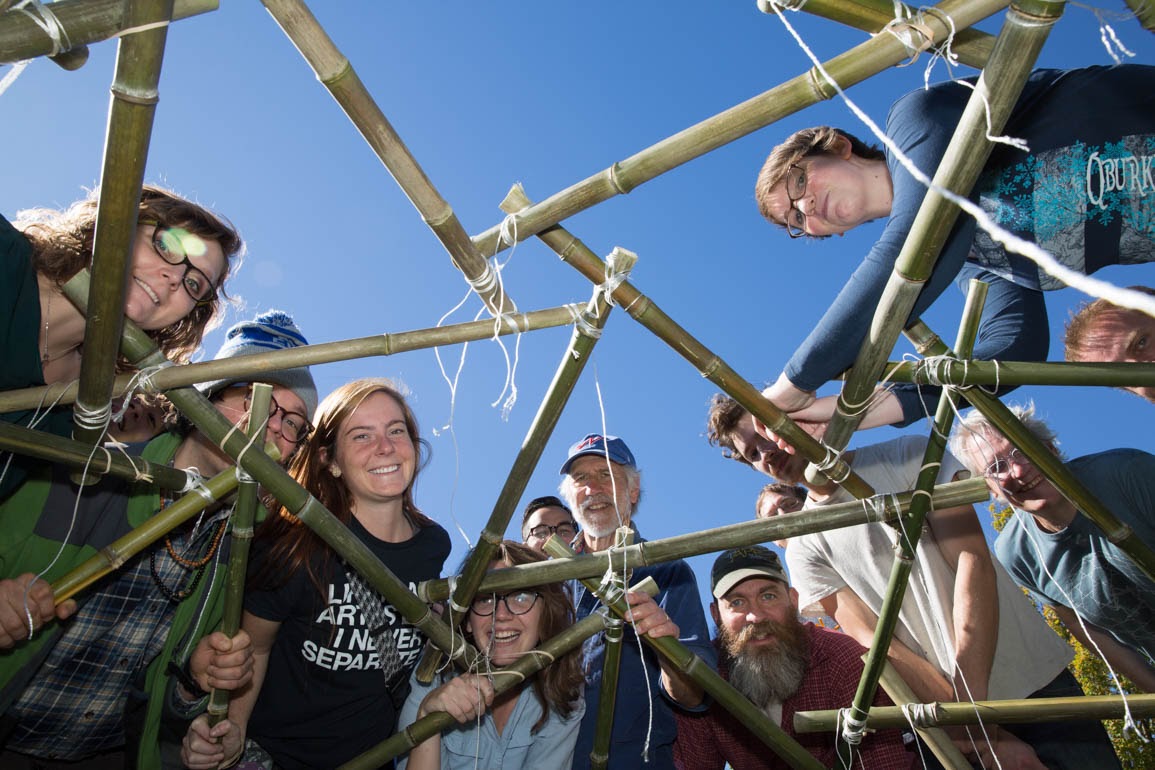 Students, faculty and staff participate in a geodesic dome building event at Appalachian. Photo by Ellen Gwin Burnette.
Appalachian's BMC Semester project team created a geodesic dome icon (pictured below) as a visual representation of the series. These domes were first designed and created by BMC visiting scholar, inventor R. Buckminster Fuller, in an effort to improve human shelter.

Fuller taught at BMC in the summers of 1948 and 1949, and he served as the Director of the BMC Summer Institute in 1949. While there, he and his students spent a great deal of time working on the design and construction of geodesic domes.
RCOE's geodesic dome will be on display through the end of April 2018. Additional geodesic domes are being displayed across campus, including the Turchin Center for the Visual Arts, and at community locations, including the Blowing Rock Art & History Museum.
About Black Mountain College Semester at Appalachian
Black Mountain College (BMC) was founded in 1933 in North Carolina's rural Swannanoa Valley, near Asheville by a band of academic dissidents, led by John Andrew Rice (whose papers are housed in Appalachian's W.L. Eury Collection) and closed its doors in 1957. BMC was an early leader of progressive, experimental education in the 20th century and to this day remains one of the greatest academic adventures ever launched on American soil.
The school was dedicated to an interdisciplinary approach, attracting faculty and lecturers that included America's leading visual artists, poets and influential writers, musical composers, dancers and designers. John Andrew Rice insisted that art should be at the center of a broad academic curriculum.
For Appalachian State University's Black Mountain College (BMC) Semester in spring 2018, multiple departments across the university are collaborating with area museums and other venues to host exhibits, lectures and workshops that will highlight the importance of BMC's influence within the Appalachian region's creative, educational and political movements.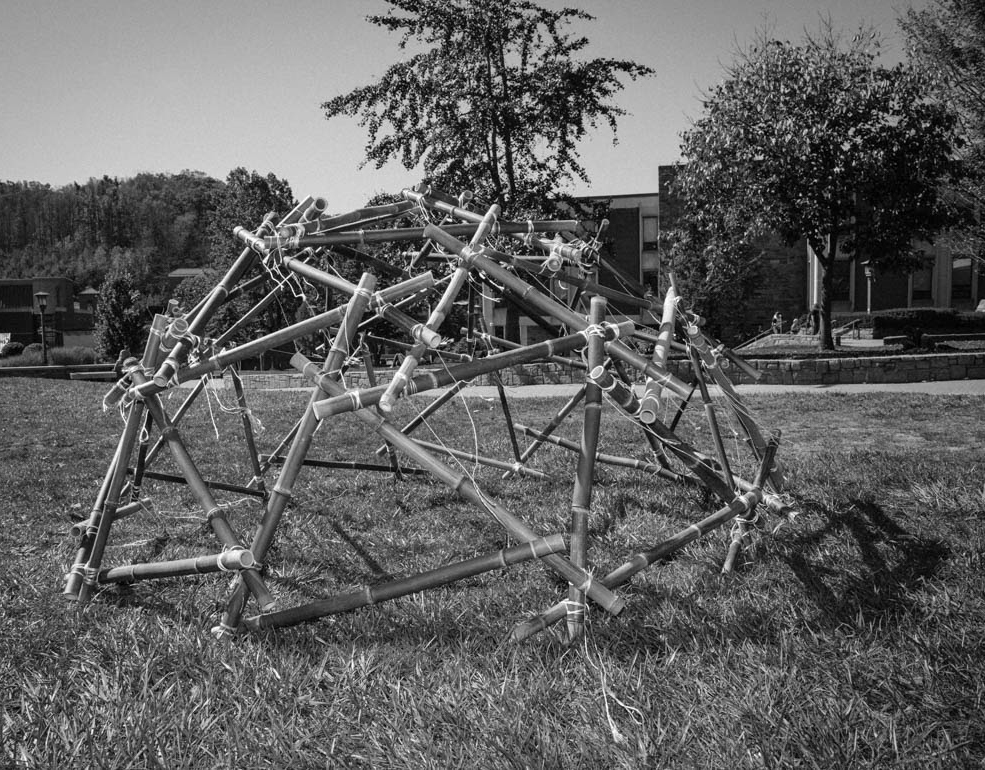 A completed geodesic dome at Appalachian - one of several planned. Photo by Ellen Gwin Burnette.
About Buckminster Fuller and Geodesic Domes
R. Buckminster Fuller (1895-1983) was a 20th century inventor and visionary who did not limit himself to one field but worked as a 'comprehensive anticipatory design scientist' to solve global problems. Fuller's ideas and work continue to influence new generations of designers, architects, scientists and artists working to create a sustainable planet.
During his life and career, Fuller was awarded 25 U.S. patents, wrote 28 books, received 47 honorary doctorate degrees, circled the Earth 57 times consulting and lecturing, and received dozens of major architectural and design awards along with the prestigious Medal of Freedom, the highest civilian award in America.
Fuller's legacy lives on through the Buckminster Fuller Institute, which is committed to continued research into the practice and fundamental principles of comprehensive anticipatory design science and its relevance to contemporary global issues and design practice.
In working with architectural forms, Fuller realized that virtually all traditional building had been based on the rectangle as a fundamental structural unit. He discovered, however, that the most stable structural form is not the rectangle but the triangle. The geodesic dome is therefore constructed of any number of equilateral triangles connected at angles to one another to form a dome, which is actually one-half of a sphere.
The word "geodesic" is used to describe the geometry of curved surfaces. This building form is scalable to any size, so that anything from a child's toy to the 20-story high dome built in Montreal for the 1967 World's Fair is based on exactly the same principle.
The dome uses the "doing more with less" idea in that it encloses the largest volume of interior space with the least amount of surface area thus saving on materials and cost.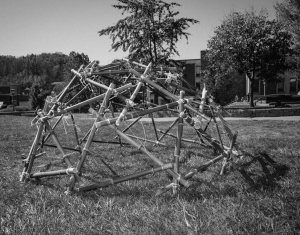 Tags: