The month of March is National Reading Month, which kicks off with a celebration of reading through the National Education Association's (NEA) Read Across America Week. In years past, many of the Reich College of Education's (RCOE) students have volunteered their time to visit classrooms to read books. This year due to COVID-19 restrictions, the RCOE's Appalachian Educators club and Public School Partnership (PSP) collaborated to bring books to the classrooms virtually.
Dubbed the "Boone Book Buddies", 15 students, along with PSP Director Dr. Betsy Rosenbalm and instructional coach Dr. Adreian Pitts, created 28 videos of books being read aloud. Participants selected picture books that either were special to them, had a powerful message, or made kids laugh.
"The Public School Partnership aims to create and participate in as many collaborative opportunities with the public Pk-12 schools in our region as possible," explained Rosenbalm.
"Although COVID-19 restrictions won't currently allow for our education majors to visit classrooms for extracurricular purposes, virtual activities such as this Boone Book Buddy project continue to allow us to connect with students and teachers in meaningful ways."
Once the videos were uploaded to a special playlist, they were sent to elementary teachers in the 12 PSP districts for them to share in their classrooms.
"The read alouds provided by the Boone Book Buddies provided a strong model of meaningful reading fluency while addressing topics and situations that our world is trying to figure out," said Dr. Amie Snow, Director of Curriculum and Instruction at App State's Academy at Middle Fork. "Reading books on topics that impact our students' daily lives helps us develop citizens who are prepared and willing to engage in opportunities to promote change in our communities."
The PSP is a strong collaborative program between the university and area public schools to improve education. Other programs through the PSP are the Mountaineer Readers program, the NBCTApps program, the Partnership Leaders Council, the North Carolina New Teacher Support Program, and biannual Partnership Mini-Grant opportunities.
Housed in the James Center for Student Success and Advising, the Appalachian Educators Club is open to all education majors and anyone who is interested in supporting education. This project was part of the Outreach Committee, which plans events and activities around K-12 school visits to campus.
"We as a committee are so glad not only to have created this resource for teachers, but also an opportunity for fellow students to plug into the local schools again - that's really what the Outreach Committee is all about," said Lindsay Cowley, the Outreach Committee chair.
"Additionally, the overwhelmingly positive response we've received from teachers has led me to realize how meaningful read-aloud experiences are in early education and encourages me to prioritize them in my future classroom," she added.
Check out the complete list of readers and books:
Reader

Major

Hometown

Title

Author

Illustrator

Publisher

Harmony Brown

elementary education

Charlotte, North Carolina

I Like Myself

Karen Beaumont

David Catrow

HMH Books

Riley Barnes

elementary education

Clayton, North Carolina

'I Have A Little Problem' Said the Bear

Heinz Janisch

Silke Leffler

NorthSouth Books

Dr. Adreian Pitts

Instructional Coach

Greensboro, North Carolina

Crown: An Ode to the Fresh Cut

Derrick Barnes

Gordon C. James

Denene Millner Books, Agate Publishing

Bridget Cleary

elementary education

New Canaan, Connecticut

We're All Wonders

R.J. Palacio

R.J. Palacio

Random House Children's Books

Allie Tippin

elementary education

Efland, North Carolina

I'm Gonna Like Me

Jamie Lee Curtis

Laura Cornell

HarperCollins Publishers

Leo Fowell

elementary education

Charlotte, North Carolina (originally from Auckland, New Zealand)

Hair Love

Matthew A. Cherry

Vashti Harrison

Penguin Young Readers Group

Jayne Spencer

elementary education

Hope Mills, North Carolina

Grumpy Monkey

Suzanne Lang

Max Lang

Random House Children's Books

Francine Ollila

elementary education

Chapel Hill, North Carolina

Cranberry Valentine

Wende and Harry Devlin

Harry Devlin

Purple House Press

Grace Shearon

elementary education

Concord, North Carolina

The Crayon Man

Natacsha Biebow

Steven Salerno

HMH Books

Chloe Lineman

special education

Chapel Hill, North Carolina

Llama Llama Mad at Mama

Anna Dewdney

Anna Dewdney

Penguin Young Readers Group

Vann West

career and technical education

Roseboro, North Carolina

Hey Mom, What is Diversity?

T. Albert

Maa Illustrations

Monkey Pen

Madison Goodwin

English education

Raleigh, North Carolina

No, David!

David Shannon

David Shannon

Scholastic

Reagan Houchard

elementary education

Burnsville, North Carolina

Pete the Cat and His Four Groovy Buttons

Eric Litwin

James Dean

HarperCollins

Jenny Eure

elementary education

Winston-Salem, North Carolina

The Little Mouse, the Red Ripe Strawberry, and the Big Hungry Bear

Audrey and Don Wood

Don Wood

HMH Books

Dr. Betsy Rosenbalm

Director of the Public School Partnership

Statesville, North Carolina

I Wonder

K.A. Holt

Kenard Pak

Random House

The Giving Tree

Shel Silverstein

Shel Silverstein

HarperCollins

Lindsay Cowley

child development: birth through Kindergarten

Kittrell, North Carolina

If You Give A Moose A Muffin

Laura Joffe Numeroff

Felicia Bond

HarperCollins

What Lies on the Other Side?

Udo Weigelt

Maja Dusíková

North-South Books

Who Will Tuck Me in Tonight?

Carol Roth

Valeri Gorbachev

North-South Books

The Bad Mood

Moritz Petz

Amelie Jackowski

North-South Books

The Rainbow Fish

Marcus Pfister

Marcus Pfister

North-South Books

Sydney Shadrick

special education

Lake Zurich, Illinois

A Kids Book About Racism

Jelani Memory

~

A Kids Book About, Inc.

A Kids Book About Systemic Racism

Jordan Thierry

~

A Kids Book About, Inc.

A Kids Book About White Privilege

Ben Sand

~

A Kids Book About, Inc.

A Kids Book About Empathy

Daron K. Roberts

~

A Kids Book About, Inc.

A Kids Book About Feminism

Emma Mcilroy

~

A Kids Book About, Inc.

Grace Goes to Washington

Kelly DiPucchio

LeUyen Pham

Little, Brown Books for Young Readers

The World Needs More Purple People

Benjamin Hart and Kristen Bell

Daniel Wiseman

Random House Books for Young Readers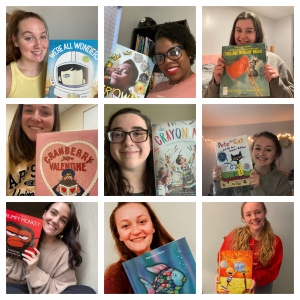 Tags: