This past summer, Dr. Paul Wallace, professor in the Department of Leadership and Educational Studies at Appalachian, which is housed in the Reich College of Education (RCOE), led 12 participants of education students, faculty, and local practicing K-12 teachers to Indonesia as part of the Fulbright-Hays Group Projects Abroad (GPA) Program. The program's purpose emphasized curriculum development and cultural immersion. Fulbright–Hays is one of several prestigious United States Fulbright Programs whose goal is to improve intercultural relations and intercultural competence between the people of the U.S. and other countries.
"The program allowed the group to study in Indonesia for four weeks in order to develop curriculum and digital media, which is to be used both in their classrooms and distributed online for all educators to access," said Wallace. "Participants engaged in seminars, workshops, and activities throughout all phases of the program that related to Indonesian history, culture, and the arts."
Highlights of the travel experience included fostering closer ties with BINUS University, Appalachian's partner institution in Jakarta; working with Gamelan Cudamani, one of Bali's most respected performing arts schools and companies, on understanding Balinese culture through music and dance; and touring remote villages in West Timor to observe traditional life.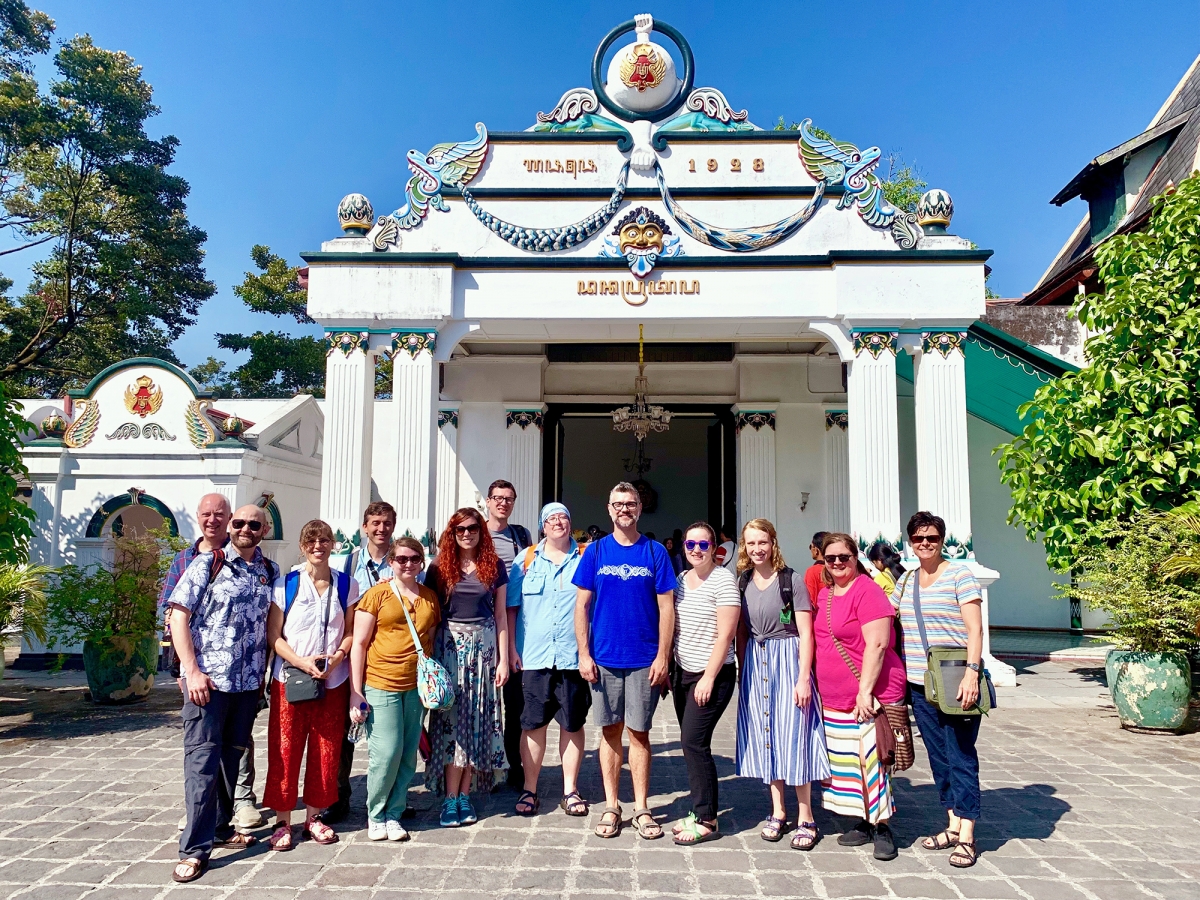 Group in front of Kraton Sultan Palace of Yogyakarta. Photo submitted.
Wallace designed the program and led the following participants across Indonesia, visiting the islands of Java, Bali, and West Timor:
Jennifer Anderson - music teacher at W.D. Williams Elementary School and Pisgah Elementary School in Buncombe County, North Carolina
Elizabeth Bailey '19 Bachelor of Science in history, social studies education - currently enrolled in the Master of Arts in history program at Appalachian
Tonya Denny '12 Master of Library Sciences - librarian at Blue Ridge Elementary School in Ashe County, North Carolina
Andrew Guier '04 Bachelor of Science in history education - world history and American history teacher at East Burke High School in Burke County, North Carolina
Peaches Hash '12 Master of Arts in English - currently enrolled in the Ed.D. in educational leadership program at Appalachian and instructor of rhetoric and composition in Appalachian's Department of English
Katie Haynes '19 Bachelor of Science in history, social studies education - world history teacher at Fuquay-Varina High School in Wake County, North Carolina
Gordon Hensley '97 Bachelor of Science in theatre arts education - professor of theatre arts education in Appalachian's Department of Theatre and Dance
Carla Ingram '92 Bachelor of Science in history education - world history teacher at South Caldwell High School in Caldwell County, North Carolina
Kara Janes - currently enrolled in the theatre arts education program at Appalachian
Chad Schuermeyer - theatre arts teacher at Lyle Creek Elementary School and Oxford Elementary School in Catawba County, North Carolina
Vanessa Van Valin '14 Bachelor of Music in music education - music teacher at Mountain View Elementary School in Ashe County, North Carolina
John Christian "Chris" Watson '02 Bachelor of Music in music education - music teacher at Green Valley Elementary School in Watauga County, North Carolina
Wallace was awarded a $79,835 grant from the U.S. Department of Education for the development of the program. The Fulbright-Hays GPA program covered the cost of all international travel, accommodations, activities, and meals, plus a stipend to purchase materials for the participants' classrooms.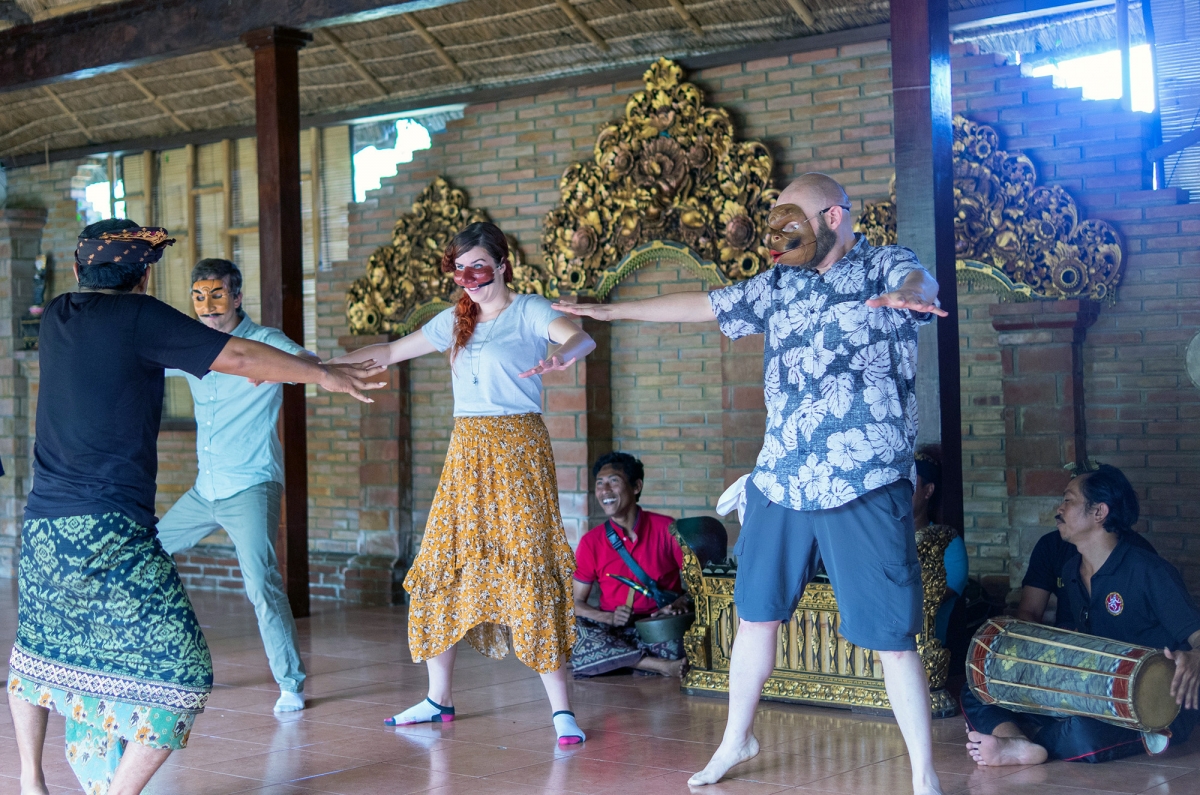 "Participants engaged in seminars, workshops, and activities throughout all phases of the program that related to Indonesian history, culture, and the arts," said Wallace. Photo submitted.
According to Wallace, as the world's fourth most populous country, the third-largest democracy, and one of the U.S.'s most important political and economic partners, very few U.S. educators have first-hand knowledge of Indonesia.
"There exists a great need for educators both in the Appalachian region and across this country to access rich and engaging curriculum materials related to Indonesian history, culture, and the arts," said Wallace. "However, there are no comprehensive teaching and media collections available."
"Incorporating a global perspective is imperative, especially here in rural North Carolina," said Vanessa Van Valin. "The world is getting so small, and it is important to learn about what is beyond our country's borders; it's important to see that other people have the same desires to live happy lives even though those lives may look different than what we think."
Carla Ingram is a graduate of the school where she teaches, South Caldwell High School. She said, "I want to inspire kids who also attend here to see what is possible after high school and college."
"I can say, 'I was just like you in ninth grade. You can also graduate, go to college, and take advantage of travel opportunities,'" she continued.
Sharing Their Experience
"This program provided multiple opportunities for educators to work together designing a cross-disciplinary curriculum," said Wallace. "The participants also created an online repository for educators to access lesson plans, cross-curricular ideas, digital storytelling, and immersive media of realia, historic landmarks, performances, ceremonies, and daily life."
All the participants have created photo galleries, digital cultural kits and online lesson plans to share with their students, as well as with colleagues in their schools and around the world . All media developed for this Fulbright-Hays GPA program is available to share and adapt for non-commercial use in classroom and student projects, with a Creative Commons license. The project website can be found online at: indonesiastudy.org.
"The most direct impact on my classroom has been in sharing photos and realia from Indonesia," said Andrew Guier. "I can talk eloquently to my students about life or history in another part of the world, but that will never live up to showing them firsthand images or objects. Their interest perks up instantly and the content comes alive for them."
"Even though I teach world history, I see so much more for growth in globalizing how topics and principles are covered," said Katie Haynes. "I have the tools now to infuse an eastern perspective into a western-oriented class."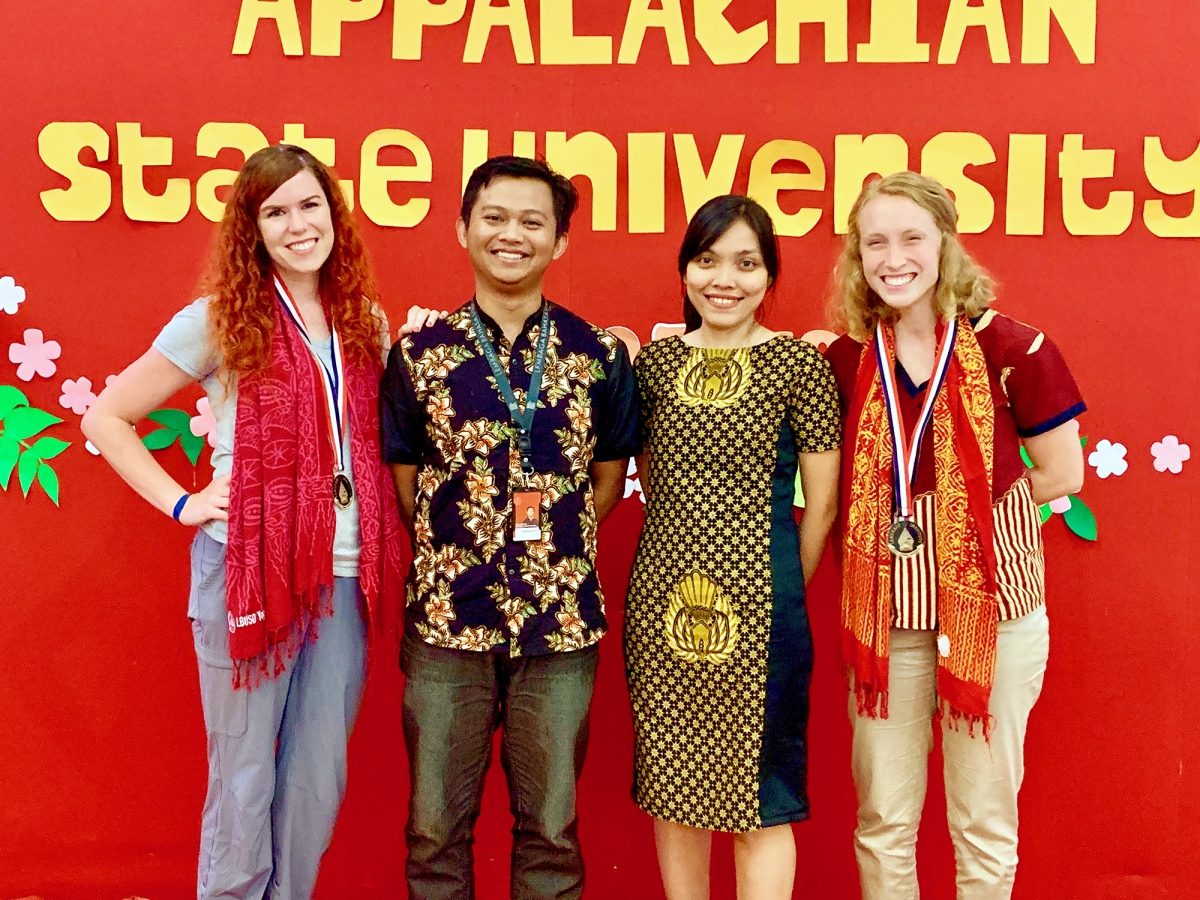 Peaches Hash and Kara Janes at Sanata Dharma University (Yogyakarta) during the closing ceremony where the completion of the language course was recognized. Photo submitted.
Beyond the online presence, many of the participants are sharing their experiences in their schools, communities, and professional conferences.
Tonya Denny hosted a community presentation on Wayang Kulit (shadow puppets) at the Ashe County Library.
"This opportunity has opened up a whole new way of teaching global diversity in my media center, and the kids are enjoying every minute," said Denny.
At Pisgah Elementary School, Jennifer Anderson's students will host an Indonesia Day in January 2020, where they will research and present to the school.
Anderson studied Indonesian music in college. This opportunity was "a chance to learn from the source - to make music where it was originally created," she said.
Carla Ingram hopes to create a display at her local library in Caldwell County, as well as to present a workshop about the trip to the North Carolina Council for Social Studies annual conference in February 2020.
Andrew Guier plans to present at the National Council for Social Studies. He also covers Indonesia in his Human Geography class.
Two groups of participants are presenting at Appalachian's annual Global Symposium on Wednesday, November 20, in the Plemmons Student Union:
Kara Janes, Peaches Hash, Elizabeth Bailey - "From Indonesia to America: Translating Indonesian Culture Into U.S. Classrooms" (10:00 - 10:50 am in PSU 137C)
Gordon Hensley, Tonya Denny, Chris Watson, and Vanessa Van Valin - "Indonesian Culture: Angklung, Batik, Gamelan, and Wayang" (11:00 - 11:50 am in PSU 137C)
"It has made me more sensitive and conscious of my students' diverse backgrounds," said Peaches Hash. "I have students who have lived in Indonesia, Korea, and other areas outside of the U.S. Facilitating their explorations of identity through writing and providing encouraging feedback are elements of teaching I am strengthening from this experience."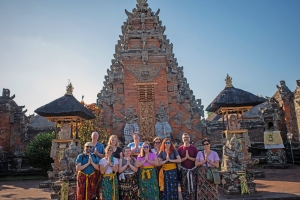 Tags: