This event is cancelled for Spring 2020. Please check back for dates in Fall 2020.
Love coffee? How about breakfast treats? Care to score some free smiles? Look no further!
The Scholars with Diverse Abilities Program (SDAP) Coffee Talk series returns Spring 2020 with new dates.
The series promotes interaction between people of all abilities:
Drink coffee or tea and eat breakfast foods prepared by SDAP students. Donate funds to offset the cost of ingredients and sustain the Coffee Talk series.
Engage in casual conversation about everyday life, inclusion and other issues important to individuals with disabilities.
Series Schedule
Friday, February 14th, 8:45-10:15 a.m.
Friday, March 20th, 8:45-10:15 a.m.
Friday, April 17th, 8:45-10:15 a.m.
Location: All Coffee Talk events will be held in the Reich College of Education Rotunda.
Why Coffee Talk
With this monthly breakfast event, SDAP aims to create and foster a mutually beneficial environment that will:
Bring awareness to a population that is typically excluded.
Change perceptions about the disability community.
Allow students with and without disabilities to gain life skills by organizing and facilitating the events.
Create a social atmosphere for all who participate.
Special thanks to:
Beans2Brew for providing the coffee and to the SDAP students interning at Beans2Brew for brewing it for the Coffee Talk events.
Best Buddies for co-sponsoring this series.
Please mark your calendar and join SDAP for Coffee Talk!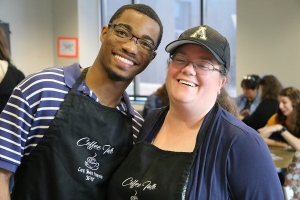 Tags: