Cassidy Milosh, originally from Morehead City, NC, has been inducted into the Cratis D. Williams Society.
This society is designed to include each year's top graduates of the Cratis D. Williams Graduate School at Appalachian State University – approximately the top 2%. Students are chosen based upon their academic performance, their engagement in their discipline, and their potential for leadership.
Milosh attended Appalachian for her undergraduate degree in Special Education and became an Accelerated Admissions (4+1) graduate student in the Reading Education master's program just before her senior year. She graduated in May 2017; her class numbered approximately 400 students.
Milosh was also the recipient of a Graduate Research Associate Mentoring Program (GRAM) Award with Dr. David Koppenhaver, a professor in the Department of Reading Education and Special Education.
Milosh said, "My work with David Koppenhaver as a GRAM student has combined both of these fields [special education and reading education] in an incredible way."
Milosh, under the mentorship of Koppenhaver and Dr. Aftynne Cheek, an Assistant Professor in the Department of Reading Education and Special Education, conducted research on emergent literacy and communication for a special education classroom of elementary school students.
"Working with the special education teacher in the room, who is also a graduate of the Appalachian Special Education program, we implemented a multi-component literacy intervention targeting emergent literacy skills and communication," shared Milosh. "The students showed growth in pre-conventional literacy skills as well as amazing progress with using augmented communication."
Now that she has graduated, Milosh plans to relocate to the Asheville area to teach in an exceptional children's classroom. She is excited to utilize what she learned during her time at Appalachian, especially the experiences she had in her programs on study as well as her research work.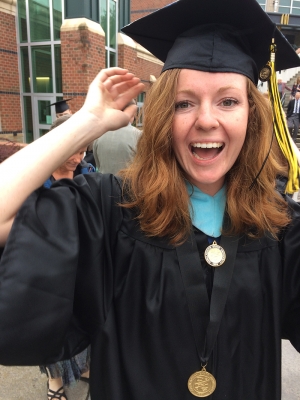 Tags: