Appalachian State University's Reich College of Education (RCOE) will celebrate the 50th anniversary of the publication of Eric Carle's The Very Hungry Caterpillar on Friday, April 5 from 5:30-7:30 p.m. The event will be held in the RCOE, located at 151 College Street, and will include a gallery tour and reception.
Visitors will have the opportunity to tour the RCOE's permanent installation of Eric Carle prints and purchase special 50th-anniversary editions of The Very Hungry Caterpillar as well as other Eric Carle classics at the University Bookstore pop-up store in the RCOE Rotunda.
Additional Eric Carle artwork from the Belk Library and Information Commons collection will be on display at the Turchin Center for the Visual Arts.
The event is free and open to the public, and it coincides with the Downtown Boone Development Association's First Friday Art Crawl. Parking is available in the College Street parking deck after 4 p.m. Light refreshments will be served.
For more information about the RCOE's The Very Hungry Caterpillar 50th Anniversary celebration, please contact Connie Green.
Eric Carle Discusses 50 Years of The Very Hungry Caterpillar
Associated Events
Leading up to the 50th Anniversary celebration are several associated events:
"Cut and Create" Workshop" for K-12 teachers at the Turchin Center
The Very Hungry Caterpillar Reading Time for Lucy Brock Child Development Lab School students
"Kids Create: The Very Hungry Caterpillar" at The Children's Playhouse
"Cut and Create" Workshop
Professional development workshop for K-12 teachers, four-credit hours

Date: Tuesday, March 26
Time: 4:00 p.m. - 8:00 p.m.
Location: Turchin Center for the Visual Arts
Instructors: Paige Hoffman, Charlene Trestain, and Christy Blair Chenausky
A light meal will be served and participants will tour the RCOE Eric Carle installation. Materials are provided. Registration is required. Contact Christy Blair Chenausky.
"Kids Create: The Very Hungry Caterpillar"
Participants will read the book and act it out with puppets, followed by a caterpillar and butterfly craft.
Date: Friday, April 5
Time: 11:00 a.m.
Location: The Children's Playhouse
Contact Kathy Parham for more information.
The Very Hungry Caterpillar Reading Time
Students from the Lucy Brock Child Development Lab School will tour the art installation and participate in reading circles on Wednesday, April 3.
About the RCOE Eric Carle Installation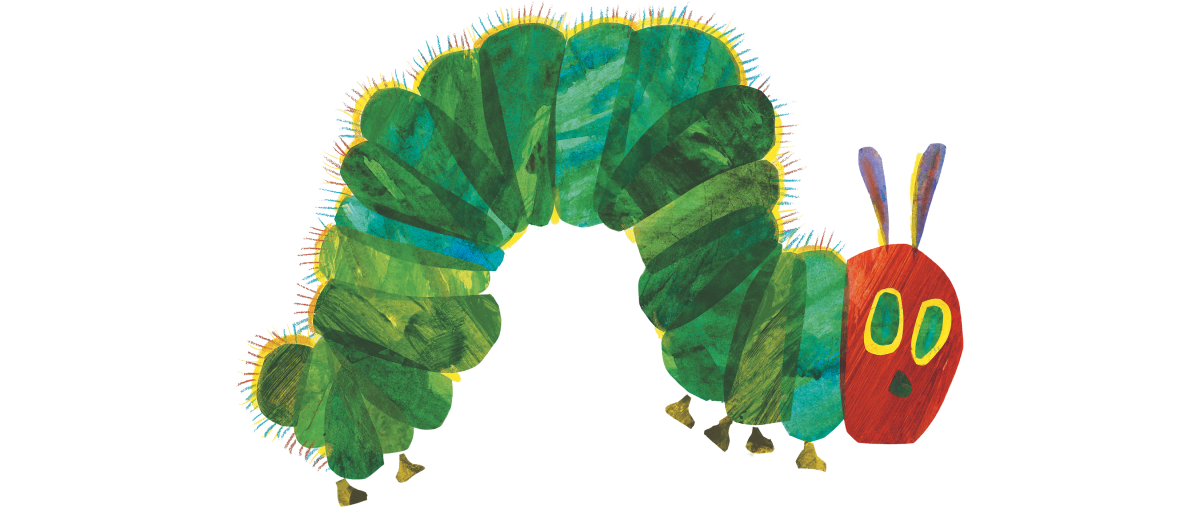 RCOE's permanent installation of Eric Carle prints decorates the hallways and classrooms of the building's third floor. It includes artwork featured in The Very Hungry Caterpillar, Carle's five other "very" books, and illustrations from many of his other books. There is also a striking image of a rainbow being painted by an artist on a ladder who bears some resemblance to Carle.
This unique collection was installed in 2013 when the college of education building was constructed. It was a gift to the university from Eric Carle and his wife, Barbara, who made Blowing Rock their summer home for many years.
As part of the construction planning process, then RCOE Dean Charlie Duke (retired 2013) contacted Carle requesting a commission of original art for the building.
Barbara Carle (1939 - 2015), Eric's wife and co-founder of the Eric Carle Museum of Picture Book Art in Amherst, Massachusetts, instead suggested that the college consider working with the Carle Museum to place large images on the walls of halls and classrooms. This technique, where digital art is installed like wallpaper, had been used with beautiful results in the museum and at the Columbia University Children's Hospital in New York.
The RCOE's installation is the only one of its kind in a university.
About The Very Hungry Caterpillar
An excerpt from The Eric Carle Museum of Picture Book Art Presents: The Very Hungry Caterpillar Turns 50 press release

Eric Carle's tale of a caterpillar's transformation into a butterfly is one of the most iconic children's books of all time.
Through bold images and gentle humor, The Very Hungry Caterpillar teaches lessons in counting, the days of the week, the process of metamorphosis, and the importance of choosing foods wisely. Carle turned the traditional picture book into an interactive object by integrating holes and shortened pages. "It's a book you can play with, a toy you can read," he explained. He designed it for toddlers and preschoolers, an audience under-recognized by the publishing industry at the time. A new era for picture books was born.
The caterpillar's famous journey is now recognized across the globe. Fifty years after its original publication, a copy of the book sells somewhere in the world every 30 seconds! It has been translated into 62 languages, most recently Yiddish and Mongolian. Carle is often asked why this book, above all his others, has become such a beloved classic. He believes it's because the story is one of hope. "Like the caterpillar," he says, "children will grow up and spread their wings."
About Eric Carle
An excerpt from Biographical Notes for Eric Carle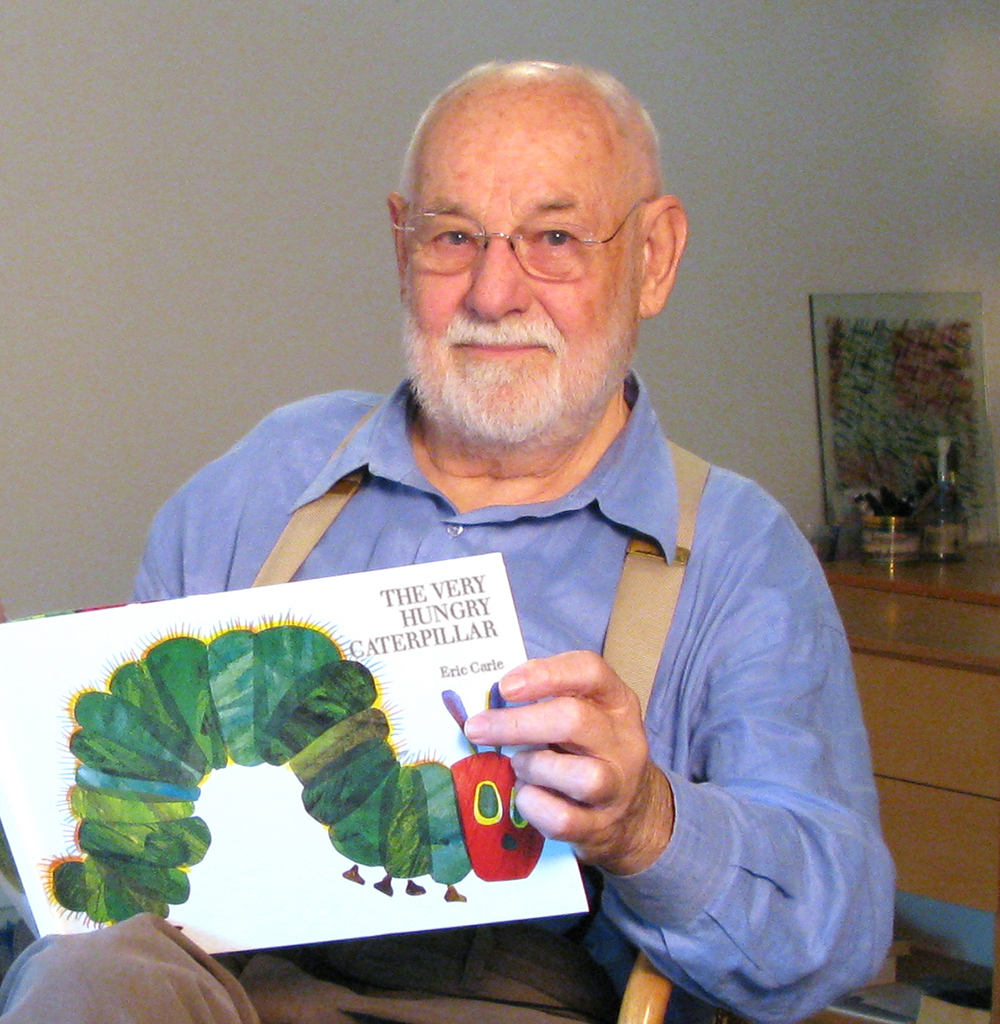 Eric Carle reading The Very Hungry Caterpillar. Photo submitted
Eric Carle is acclaimed and beloved as the creator of brilliantly illustrated and innovatively designed picture books for very young children. His best-known work, The Very Hungry Caterpillar, has eaten its way into the hearts of literally millions of children all over the world and has been translated into 65 languages and sold over 46 million copies. Since the Caterpillar was published in 1969, Eric Carle has illustrated more than seventy books, many best sellers, most of which he also wrote, and more than 145 million copies of his books have sold around the world.
Born in Syracuse, New York, in 1929, Eric Carle moved with his parents to Germany when he was six years old; he was educated there, and graduated from the prestigious art school, the Akademie der bildenden Künste, in Stuttgart. But his dream was always to return to America, the land of his happiest childhood memories. So, in 1952, with a fine portfolio in hand and forty dollars in his pocket, he arrived in New York. Soon he found a job as a graphic designer in the promotion department of The New York Times. Later, he was the art director of an advertising agency for many years.
One day, respected educator and author, Bill Martin Jr, called to ask Carle to illustrate a story he had written. Martin's eye had been caught by a striking picture of a red lobster that Carle had created for an advertisement. Brown Bear, Brown Bear, What Do You See? was the result of their collaboration. It is still a favorite with children everywhere. This was the beginning of Eric Carle's true career. Soon Carle was writing his own stories, too. His first wholly original book was 1,2,3 to the Zoo, followed soon afterward by the celebrated classic, The Very Hungry Caterpillar.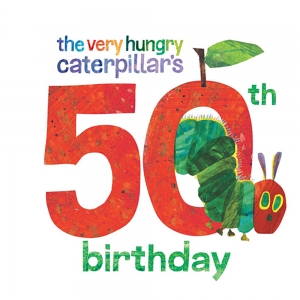 Tags: