Diamond Slone Couch, a graduate student in the Reich College of Education's (RCOE) Marriage and Family Therapy program (MFT), has been selected as an American Associate for Marriage and Family Therapy/Substance Abuse and Mental Health Services Administration (AAMFT/SAMHSA) Minority Fellow in the Youth Program.
"Earning this fellowship means building community with a network of like-minded peers as well as connected mentors who can help grow my perspective and practice as a therapist," said Couch.
"It means taking on additional training and opportunities that can hopefully expand my reach in terms of the clients I hope to serve as well as the resources afforded to me," she continued. "I am excited about getting to know others through this fellowship, with similar passions, to build up ideas and imagine lasting change while making strides to become more of what we hope to see in the world."
The AAMFT/SAMHSA Minority Fellow in the Youth Program's main goals are:
"Expand the delivery of culturally competent mental health and substance abuse services to underserved minority populations.

Increase the number of culturally competent Marriage and Family therapists.

Provide financial support and professional guidance to graduate students pursuing degrees in Marriage and Family therapy.

Provide a fellowship program open to Marriage and Family Therapy students who are committed to research about and service to ethnic minority and underserved populations."
Couch, originally from Detroit, Michigan, chose Appalachian because she appreciated her program's emphasis on systemic multicultural education within therapy and the faculty's dedication to that work.
After graduation, she plans to enroll in a doctoral program and continue her research, education, and work with the mental health and well-being of people of color.
"I hope to bridge gaps in understanding by providing nourishing cross-cultural spaces that speak to the heart of healing, community, race (and other hard conversations), and effective change," she added. "In the further future, I hope to continue that work as a professor and work with students on understanding the dynamics between health, healing and race, community."
The MFT program is one of four programs in the RCOE's Department of Human Development and Psychological Counseling.
Couch encourages prospective students to ask themselves the following questions:
"Are you self-reflective?

Open to having tough conversations?

Can you offer empathy and validate new ways of thinking that don't mirror your own?

What are your beliefs about the nature of people in general?"
"Think about all these things - as with anything, you get out of it what you put in," she continued. "If you dream of being a listening ear for folks and creating change in others' lives, this program is for you as long as you are willing to offer the same for yourself."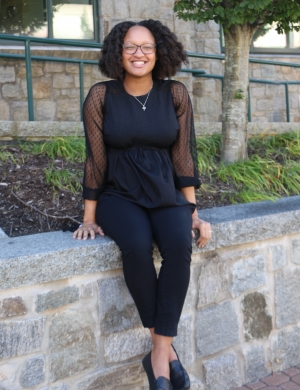 Tags: