The Doctoral Program in Educational Leadership in Appalachian's Reich College of Education has been admitted to the Carnegie Project on the Educational Doctorate (CPED) Consortium.
The Carnegie Project on the Education Doctorate (CPED) and its Board of Directors accepted 22 new graduate schools of education as members into the consortium. New members were chosen through an application process and evaluated by a CPED committee composed of faculty members of current CPED institutions.
Appalachian joins more than 80 current members in the important work of redesigning professional practice preparation in education for the improvement of Pk-20 education and the organizations that support it.
About the Doctoral Program in Educational Leadership
The Reich College of Education is home to Appalachian's only doctoral program. Graduates hold leadership roles in K-12 public education, community colleges and educational agencies across North Carolina and beyond. Through core leadership and research courses, students learn to apply theory to practice to make educational systems more effective, more equitable and more sustainable. Through professionally oriented concentrations, students gain advanced knowledge in their disciplinary specialization and prepare themselves to assume higher levels of organizational leadership.
About the Carnegie Project on the Education Doctorate (CPED)
The Carnegie Project on the Education Doctorate (CPED) is a consortium of over 100 graduate schools of education, that have committed resources to work together to undertake a critical examination of the doctorate in education (EdD) through dialog, experimentation, critical feedback and evaluation. The vision of the CPED is to inspire all schools of education to apply the CPED Framework to the preparation of educational leaders to become well-equipped scholarly practitioners who provide stewardship of the profession and meet the educational challenges of the 21st century. To accomplish this, CPED seeks to strengthen, improve, support and promote the CPED framework through continued collaboration and investigation.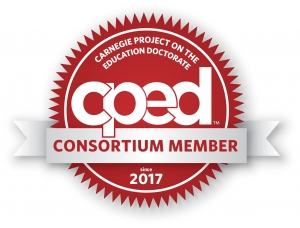 Tags: