Dr. Armenuhi Avagyan is a Fulbright Scholar from Armenia working on postdoctoral research with the Reading Education and Special Education (RESE) department, housed in Appalachian State University's Reich College of Education (RCOE). She will be on campus until June 2019.
Avagyan attended Armenian State Pedagogical University for both her predoctoral work and her doctoral work on dyslexia, which she completed in 2001. Her postdoctoral research focuses on Autism and early intervention, namely the full array of methods that professionals use in America when teaching students with Autism and specifically learning early intervention assessments and strategies.
She asks, "What alternative communication methods do professionals use when students do not speak?" Avagyan will compare these methods to methods utilized in Armenia.
She is also focusing on high technology communication means and technology-based speaking programs, determining which communication programs and high technology programs are more accessible for Armenian children.
Avagyan also has a professional practice as a speech therapist in Armenia and in 2017 established a foundation for educational research and outreach for teachers, administrators, and specialists working with students with disabilities.
"I have been in this field for over 20 years working with preservice and inservice teachers as well as specialists in Armenia, and I saw the need of providing evidence-based intervention to children in need of these services," she said. "So, I started the foundation to help address the education needs of children in Armenia."
"I have been in this field for over 20 years working with preservice and inservice teachers as well as specialists in Armenia, and I saw the need of providing evidence-based intervention to children in need of these services."
One recent project of the foundation is to support the production and distribution of educational games for teachers, specialists, parents and students in Armenia.
Avagyan said, "My visits to Appalachian introduced me to many interactive and engaging resources that can be used to engage students with special needs. Through association with the Anderson Reading Clinic in the RCOE, I also became aware of the many quality children's books in English about students with disabilities. These experiences inspired me to think about ways in which I could help Armenian parents and teachers engage children in appropriate educational materials, which led me to translate 'Out of My Mind' by Sharon Draper into Armenian. With the support of the foundation, I have designed and published educational games (four published, one translated into English) for use in schools and homes."
Hallie Langley, RESE Student Services Manager, recently talked with Avagyan about her research and her time at Appalachian.
Why Autism?
It is a prevalent disability found in every country, every culture.
Why early intervention?
Many schools in Armenia are not equipped to provide appropriate services for students with different educational needs. Teachers are not appropriately trained to work with students with disabilities."
Avagyan added that she is committed to improving opportunities for Armenian students with special needs by improving the professional education programs for Armenian teachers.
There have been recent improvements to schools in the country of 3 million: There are 200 inclusive schools in Armenia now, but more needs to be accomplished. The current situation in Armenian schools is that students with disabilities now are physically in the classrooms, but teachers need help learning how to make sure those students are engaged and learning effectively.
Why Appalachian?
I was here two times before. The first time I came to Appalachian was as a university administrator: I was Dean of the Special Education College at Armenian State Pedagogical University. I came as a fellow to the university administrator program with the International Research and Exchanges (IREX) program, out of Washington DC, and stayed for two months in 2015.
After that, I returned to participate in the RCOE's Children's Literature Symposium in 2016, which was focused on the theme of books about and for children with special needs. So, through these visits, I formed professional relationships with professors here, especially with Woodrow Trathen, who was my supervisor the first time I was here. We collaborated on work before and decided to continue that collaboration, and I used that as an opportunity to come back to Boone and Appalachian.
Also, my daughter is with me this visit. She is a high schooler, and I felt Boone was a calm and safe place for both of us to live for five months.
From my previous visits, I have enjoyed the people here; they are warm and supportive. All previous visits I have worked with Appalachian's Office of International Education and Development, and they were also very encouraging and friendly. I would also like to mention Jesse Lutabingwa: From my first visit, I have stayed in touch with him through email and feel supported from his office as well.
I am delighted to be here again, and I look forward to continued collaboration with Appalachian, the RCOE, RESE, and faculty. I offer my sincere thanks to The Fulbright Program, U.S. Embassy Yerevan, my family and colleagues in Armenia as well as my Appalachian "family" who have supported my work.
Contributed by Hallie Langley and Dr. Woodrow Trathen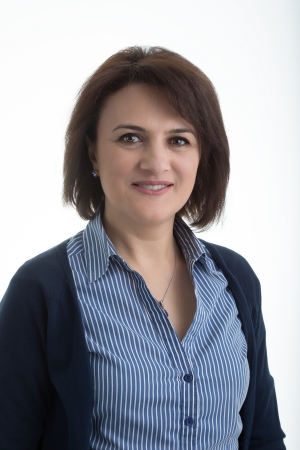 Tags: