Dr. Dominique Hammonds, director of the clinical mental health counseling graduate program and associate professor in the Department of Human Development and Psychological Counseling, received the Devoted Service Award from the North Carolina Counseling Association (NCCA) at its annual conference on February 9-11, 2023, in Durham, North Carolina.
This award recognizes a member who has provided leadership and service to NCCA and to the counseling field well beyond the typical involvement in voluntary leadership positions in a professional organization.
Over the past five years, Hammonds has served as Member-at-Large, the President Elect-Elect, President-Elect, President, and Immediate Past President for NCCA.
"I am surprised and honored to have received the Devoted Service Award," said Hammonds. "I willingly took on the responsibility of a four-year service commitment; however, my term on the executive board of the North Carolina Counseling Association was a roller coaster of successes and learning experiences."
In her leadership roles, Hammonds led a volunteer board that
worked to stabilize the association through a global pandemic,
two management transitions, and
significant reorganization and restructuring.
She also helped plan annual conferences, ensure alignment between the state branch and the American Counseling Association, updated bylaws, and worked strategically to grow membership, develop a mentoring and emerging leaders program, and explore creative ways to meet the needs of the North Carolina counseling community.
"I've become a stronger and more confident leader. This award recognizes the amount of time, energy, and dedication that went into ensuring the survival of the organization."
"I've become a stronger and more confident leader," she noted. "This award recognizes the amount of time, energy, and dedication that went into ensuring the survival of the organization."
Her nominator Dr. Andrea Barbian of Liberty University noted many of Hammonds' achievements in her leadership roles: "During her time as president, she led the association through a major change in management companies. This change impacted every aspect of our association. Without her countless hours of work, poise, and leadership it would have been hard to sustain our association and execute a successful annual conference. While attending to and prioritizing the needs of the association, she never lost sight of her desire to develop an emerging leaders program within NCCA."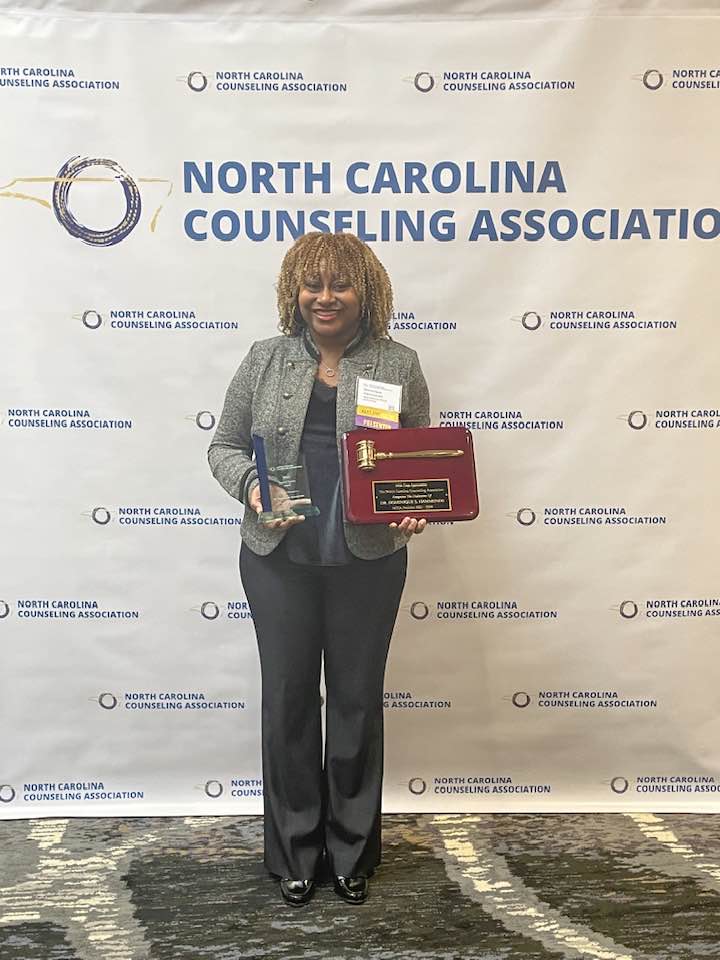 For Hammonds, it was "a meaningful, emotional, validating, and memorable day"
She added, "Although my term as Immediate Past President ends on June 30, 2023, I am dedicated to the branch and plan to stay actively involved through committee and division membership."
In addition to receiving the award, Hammonds gave a presentation entitled, "Increasing Counselor Diversity Through Holistic Admissions Review: A Call to the Profession."
Hammonds earned her Ph.D. in counseling from the University of North Carolina at Charlotte and her master's degree in clinical mental health counseling from the University of North Carolina at Greensboro. She is a Licensed Clinical Mental Health Counselor, Qualified Supervisor, National Certified Counselor, and Board Certified-TeleMental Health Provider.
She is the recipient of the 2017 Creativity/Innovation in Counseling Award and the 2018 ACES Supervision Award.
Hammonds is passionate about increasing mental health awareness among communities of Color and increasing access to quality, culturally responsive mental health care in a global society. Her scholarship and professional service activities center around a variety of subjects including:
culturally responsive teaching, counseling and clinical supervision,
creative teaching and supervision methods, and
technology in counseling.
Her goals of cultural competence, inclusion, and wellness are evident in her work both within and outside of the university setting. In addition to her work in education and research, she collaborates with community partners, engages in clinical work, and participates in community outreach.
NCCA currently has over 700 members and serves over 15,000 licensed counselors in the state of North Carolina.