Dr. Theresa Redmond, associate professor of media studies in the Reich College of Education (RCOE) Department of Curriculum and Instruction, received the Outstanding Service Award from the National Association for Media Literacy Education (NAMLE) at their 2019 Conference Kick-off Event in Washington D.C. last week. The award recognizes a non-Board member volunteering a substantial amount of time in service of a specific NAMLE project or initiative.
"I am honored and humbled to receive this award," said Redmond. "Media literacy is more important now than ever before. As we enter the third decade of the twenty-first century, we may either submit to the appeals of technology and misinformation that work to break us down and apart, or activate empowering, critical pedagogies— like media literacy— so as to prepare ourselves and young people to be critical thinkers and agents of creativity, empathy, and change."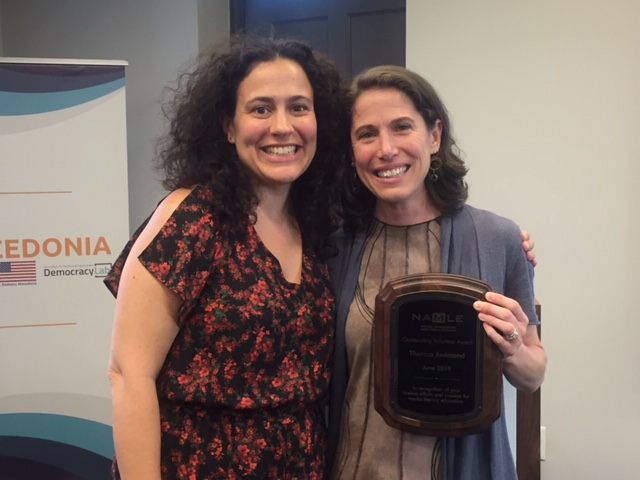 NAMLE Executive Director, Michelle Ciulla Lipkin, presents the Outstanding Volunteer Award.
The NAMLE is a professional organization for media literacy education in the United States. Awards are given at NAMLE's National Conference, which is held biennially at various cities throughout the country. Awards include recognition for research, teaching, service, and the Elizabeth Thoman Service award.
Redmond's particular activities with NAMLE over eight years have included: Past Board Member, Chairperson of the Membership Committee, Leadership Council Member, Associate Editor of the Journal of Media Literacy Education, and development, outreach, and authorship of the first State of Media Literacy in the United Stated Snapshot. Read more about the 2019 Snapshot project.
Redmond specializes in media literacy education, instructional technology, and multimedia production and teaches a range of face-to-face and online courses in both undergraduate and graduate programs within Media Studies and Teacher Education. Her research focuses on pedagogy in teaching and learning with, through, and about media and technology and on how media and communication technologies impact the nature of literacy, expression, and engagement in today's digital world.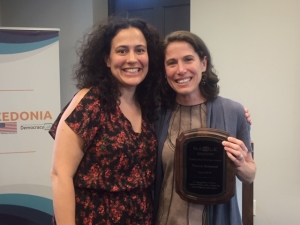 Tags: