Congratulations on declaring your major in teacher education! We are so excited to have you joining this important and inspiring profession. The Reich College of Education requires that you participate in a First Steps to Teaching event before admittance into the Teacher Education Program.
First Steps to Teaching Sessions
Thursday, September 6, 2018
6:30 pm - 8:00 pm
RCOE 124
Friday, September 7, 2018
3:00 pm - 4:30 pm
Instructional Materials Center (Belk Library)
Thursday, November 1, 2018
6:00 pm - 7:30 pm
RCOE 124
Friday, November 2, 2018
3:00 pm - 4:30 pm
RCOE 124
RSVP now!
Reservation for First Steps to Teaching Event
We look forward to meeting you at one of these events! Please note that your attendance is mandatory. It is a requirement for your application to Teacher Education.

Questions? Please contact Jan Stanley for more information.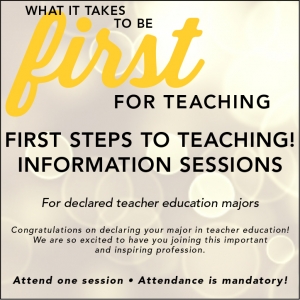 Tags: