Dr. Mimouna Zitouni, a Fulbright Scholar from Algeria, will visit Appalachian State University February 5-9, 2018.
She will present a lecture titled "Algerian Post-colonial Adult Literacy through the Iqraa Project: A Successful Enterprise for Women Education" on Tuesday, February 6, 2018 at 4:00 p.m. in the Reich College of Education (RCOE) building, room 239 (add to calendar). The lecture is free and open to the public.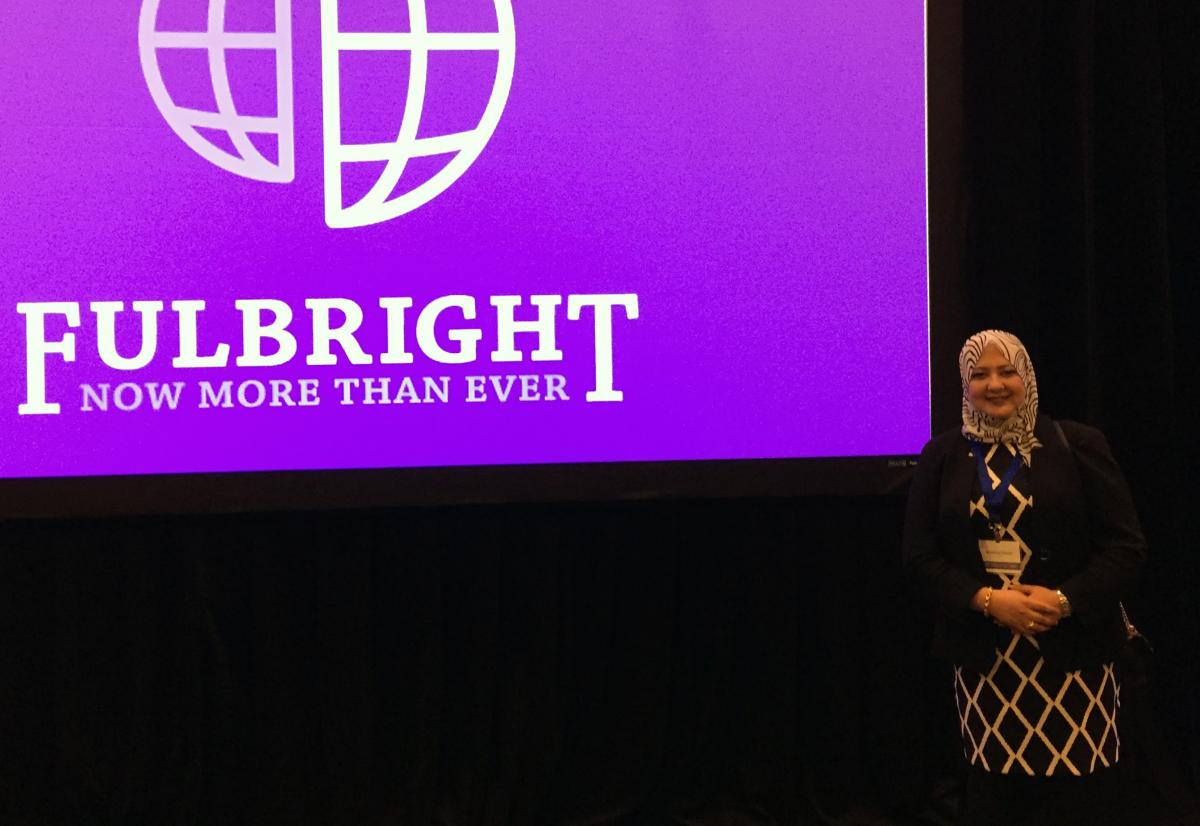 Zitouni is an associate professor of sociolinguistics, computer mediated discourse and English for Specific Purposes at the University of Oran, Algeria. She also serves as the president of the Doctoral Scientific Board, promoter of the master's program, entitled Language, Culture and Enterprise (LCE), and head of a research team for the LAROS Laboratory. She earned her Ph.D. in sociolinguistics in 2013 from the University of Oran (Algeria), her master's degree in sociolinguistics in 2009 from the University of Mostaganem (Algeria), and her bachelor's degree in TEFL (Teaching English as a Foreign Language) in 2003.
While at Appalachian, Zitouni will visit RCOE's Higher Education program and the College of Arts and Sciences' Department of Languages Literatures and Cultures as well as presenting a lecture and visiting classes at Caldwell Community College.
Zitouni's visit is sponsored by the Fulbright Outreach Lecture Fund and is being coordinated by Dr. Vachel Miller, associate professor in RCOE's Department of Leadership and Educational Studies and 2015-16 Fulbright Scholar.
Fulbright Week 2018
Her visit coincides with Appalachian's Fulbright Week 2018, an inaugural event that includes events to help students and faculty explore Fulbright opportunities, find answers to questions about the program, and prepare strong applications. Fulbright Week is sponsored by the Office of International Education and Development, the Office of Research, and the Center for Academic Excellence.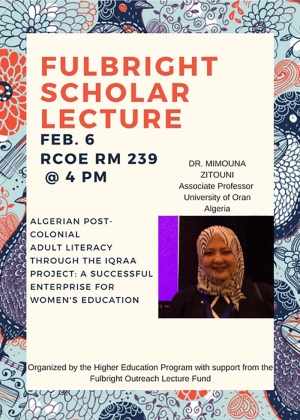 Tags: