Dr. Stacey Garrett, program director and assistant professor of higher education in the Department of Leadership and Educational Studies, was awarded the Emerging Scholar Award by the ACPA-College Student Educators International at the annual conference held in St. Louis, Missouri, in March 2022.
Designed to recognize scholars in the field of higher education within three to five years of completing their doctoral degree, recipients partner with senior scholars to conduct a research project that aligns with the association's strategic imperative for racial justice and decolonization as well as ACPA's mission, vision, and values.
For Garrett, this honor confirms the importance of her work in the field of higher education.
"As a scholar-practitioner, I seek to move theory to practice and model this approach for my students in the classroom," she noted. "I'm excited to explore a new thread of my research agenda and contribute to the transformative work ACPA is doing in the field of higher education and student affairs."
Recipients also choose to complete at least three scholarship leadership commitments within ACPA from the options below:
Reviewing articles for the Journal of College Student Development;
Serving as a Scholar-in-Residence for an association entity group, if selected;
Co-coordinating (with a current Senior Scholar) an ACPA convention session or pre- convention session designed to advance the goals of the SIRJD.
Participating in an ACPA-sponsored 15-20 minute video-recorded presentation centering on their particular research expertise and its relevance to student affairs professionals.
Or other proposed activity with the focus of advancing ACPA's mission, vision, values, and SIRJD.
Recipients will also be invited to present the findings from their study at a forthcoming (inter)national convention.
Emerging Scholars Transforming Higher Education
In 2016, ACPA-College Student Educators International, a leading association for student affairs practitioners, set out to boldly transform the field of higher education and student services. After years of dedicated research and planning, the Strategic Imperative for Racial Justice and Decolonization (SIRJD) was published in 2019.
Recognizing the historical foundations of U.S. higher education, the SIRJD framework allows practitioners to name and disrupt the exclusionary and limiting factors of systemic racism that harms higher education institutions. ACPA serves student affairs practitioners as well as faculty in graduate preparation programs - the master's and doctoral programs that train practitioners for leadership in post-secondary education settings.
Each recipient is implementing this framework in practice through multiple lenses.
"With this grant, I plan to document my faculty experience as a program director and instructor in a graduate preparation program, embedding the SIRJD framework into practice," said Garrett. "Through a mixed-methods approach, I will utilize the SIRJD to structure my approach to leading the faculty and training students of the Appalachian State University higher education program."
Scholar-Practitioner
Garrett earned her Ph.D. in educational leadership, higher education at Clemson University, her master of education in Counseling Psychology with a concentration in college student personnel administration at James Madison University, and her bachelor's of business administration in marketing at the College of William and Mary.
Before joining the faculty in 2017, she previously served as a higher education professional in various student affairs functional areas and joined ACPA while completing her master's degree. Her research, teaching, and service activities fully converge with the receipt of this award.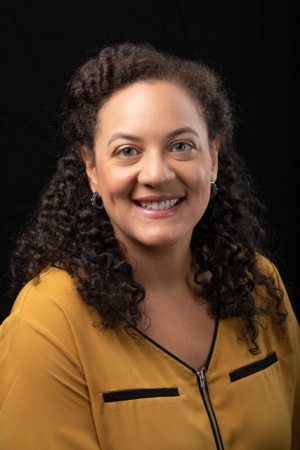 Tags: