Reich College of Education graduate student Amanda Stansberry participated in the Three Minute Thesis (3MT) competition hosted by Appalachian State University's Cratis D. Williams School of Graduate Studies. The final presentations were held virtually on January 21, 2022.
3MT is an international competition, where graduate students explain their research or scholarly/creative projects in standard non-disciplinary English to a general audience, i.e. the public, in three minutes with the help of only one static PowerPoint slide. There are three requirements:
Participants must be enrolled as graduate students and be in good academic standing.
The topic must come from research or scholarly/creative projects of significant scope.
The topic must be interesting enough to hold the attention of a nonspecialist.
The competition was judged by a panel of faculty, community, industry, and alumni representatives.
Stansberry, from Fletcher, North Carolina, is a graduate student in the higher education- community college and university leadership master's degree program. Her research interests focus on mental health and higher education.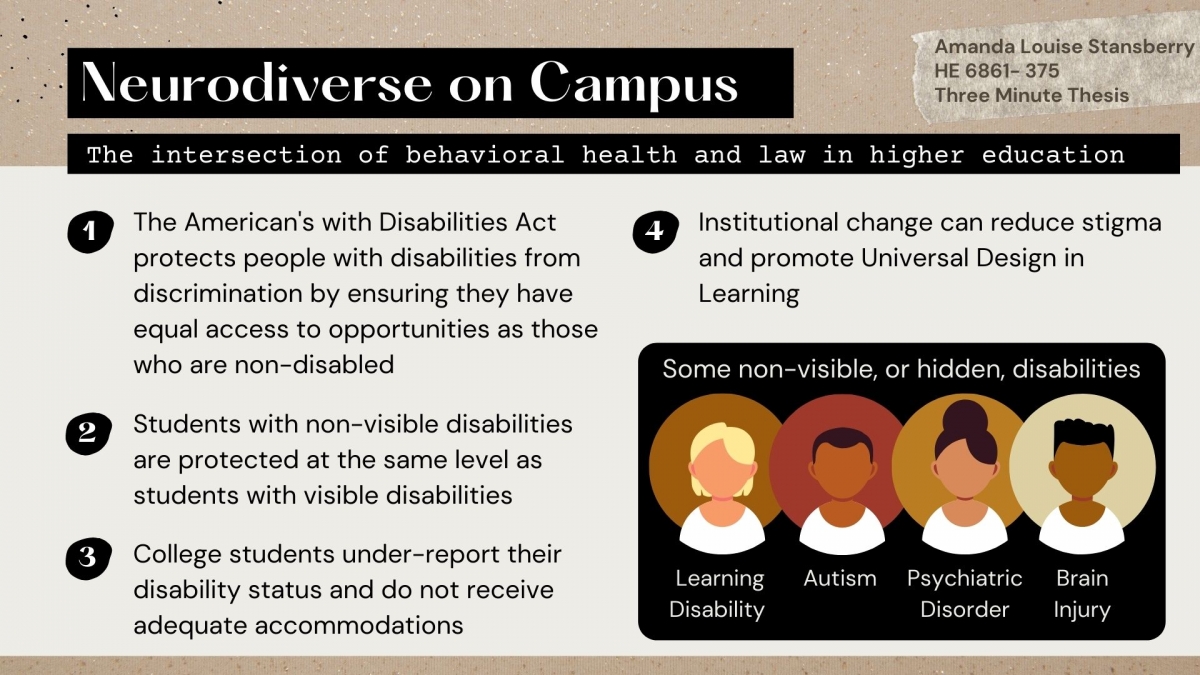 Stansberry began her research in Dr. Ashley Carpenter's course on history and law of higher education, specifically with a literature review assignment.
Having completed her Bachelor of Arts in psychology from Appalachian State University last year, she "wanted to touch on mental health in some way."
Through her research, she chose to write on the impact of the Americans with Disabilities Act (ADA) and subsequent legislation within higher education.
"I drew from our discussions of Crip Theory and disability identity development, as well as current research on mental illness and hidden disability in college student populations," she noted.
Stansberry currently works in a community college setting in Western North Carolina, and she is using her research and experience from the 3MT competition to apply to her work in student services.
"Through my research and participation in the 3MT competition, I gained a much greater awareness of the crucial role Disability Support Services play at our institutions," said Stansberry. "As a practitioner of higher education, it is a part of my role to understand and know where to access the legal protections that our students with disabilities are entitled to."
As an undergraduate student, Stansberry was an active member of the campus community, which drew her to the field of higher education.
"Appalachian was the obvious choice for my master's degree as the program is uniquely geared towards serving rural institutions and is where I began developing my skills as a practitioner of higher education," she added.
Stansberry's advice for preparing for the 3MT competition:
Set small deadlines.
Allow plenty of time for creating the slide.
"Remember that this is something you've elected to do, so be proud of your work!"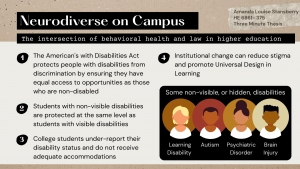 Tags: