Appalachian State University's Reich College of Education (RCOE) and Watauga County Schools (WCS) received a $6,000 gift from the Sun Belt Conference as part of the College Football Playoff (CFP) Foundation's Extra Yard for Teachers (EYFT) Week initiative.
The gift funded a project titled First Teach: Appalachian State University and Watauga County Schools Teacher Cadet Program, a partnership focused on building and supporting future educators.
College Football Goes the Extra Yard for Teachers
EYFT Week, held September 9-17, 2022, was an eight-day period dedicated to celebrating educators across the country, supported by the CFP Foundation and its partners. The CFP Foundations established EYFT Week in 2015 to provide an opportunity for universities, coaches, and student-athletes to take part in its mission of elevating the teaching profession through inspiring and empowering educators.
The CFP Foundation provided the Sun Belt Conference with funds to support teacher-centric education initiatives in conjunction with conference activities at member institutions. Institutions had an opportunity to receive up to $6,000 to implement projects in the local community that incorporated one or more of the pillars of the EYFT Program: resources, recognition, recruitment, and professional development.
In addition, each institution was asked to designate a home game during EYFT Week to recognize the teachers associated with the initiative during an on-field presentation. App State selected October 29, 2022, as this date was chosen as the Education Day game at App State.
Game Day Celebration
The WCS Teachers and the Principal of the Year were invited to the October 29 App State home football game against Robert Morris University.
Those who were recognized were:
From Bethel School, Alex Keehn
From Blowing Rock, Sue Walker
From Cove Creek School, Carla Greene '94 '97
From Green Valley School, Ashley Tate '17
From Hardin Park, Randy McDonough '83
From Mabel School, Jeanie Hicks '03
From Parkway School, Jennifer Lacy '93
From Valle Crucis, Courtney Hicks '14 '17
From Watauga Virtual Academy, Christy Laws '96 '10
The Watauga County Schools Rookie Teacher of the Year, from Cove Creek School, Kim Henderson '92 '21
And, the Watauga County Schools Principal of the Year, from Blowing Rock School, Patrick Sukow '01.
During the game, they were recognized on the field for their achievements and as Extra Yard for Teachers participating partners. Chancellor Everts and Dean Spooner presented a $6,000 ceremonial check to WCS Superintendent, Dr. Scott Elliott in acknowledgment of the gift that helped fund the First Teach Program.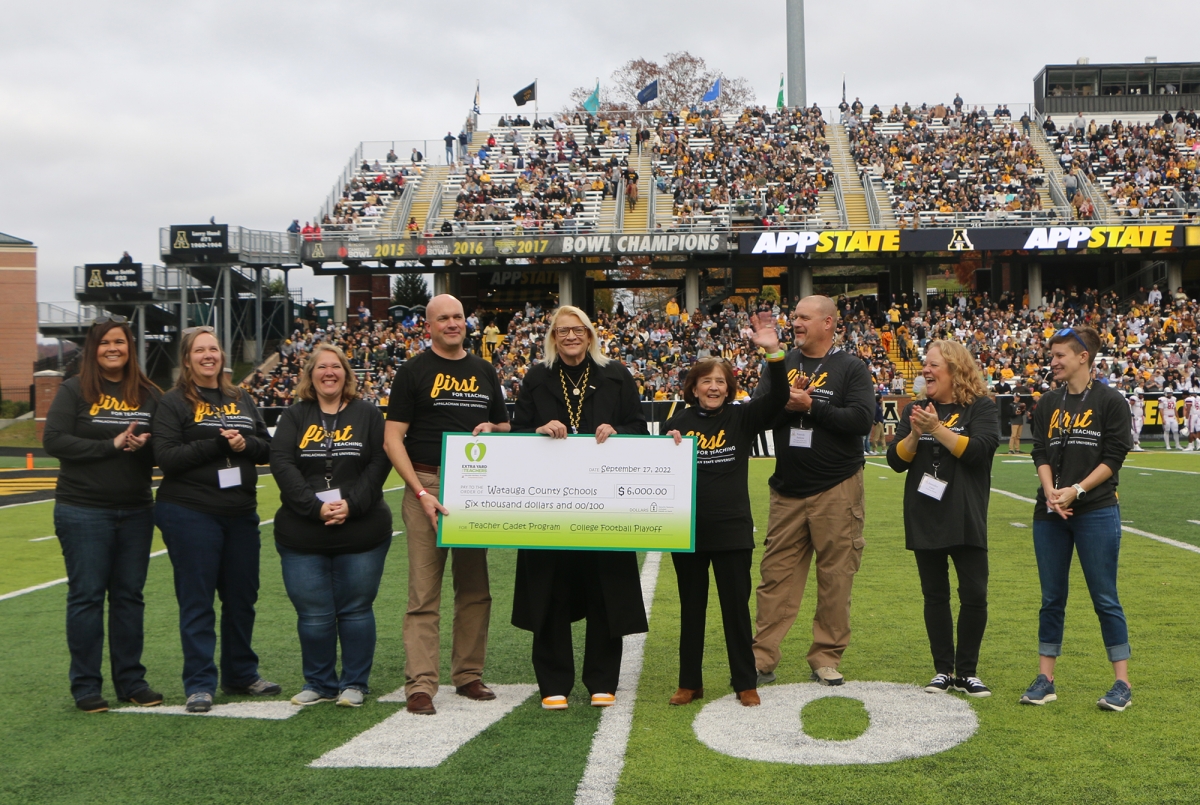 Left to right: Betsy Rosenbalm, Carla Greene, Jeanie Hicks, Superintendent Scott Elliott, Chancellor Sheri Everts, Dean Melba Spooner, Patrick Sukow, Jennifer Lacy, and Alex Keehn. Photo by Rebekah Saylors.
"All of these amazing teachers are leaders in their schools and across our district. We are fortunate in Watauga to have so many skilled and professional educators leading and teaching children in our public schools," Elliott said. "To be chosen for this kind of accolade by fellow teachers who know the role and its challenges best, these educators have shown themselves to be exemplary leaders in their classrooms and schools."
About the Teacher Cadet Program
App State was founded as a teachers' college in 1899 and these educational roots remain an integral part of the university's identity. Today, the RCOE is first for teaching - first to lead and listen, first to inspire and innovate - ensuring that our graduates are prepared to be leaders in the field of education.
Through its Public School Partnership (PSP), the college works diligently to develop and sustain relationships with local school districts to support the growth of the teacher pipeline through the Teacher Cadet Program. WCS is one such dedicated partner.
The goal of this initiative is that once students have graduated from college, they will return to their home school district and teach in their rural areas of the state. By funding a two-day Teacher Cadet training in June of 2023 at the RCOE, the PSP is sending 28 to 30 committed Teacher Cadet Teachers back to their districts this school year to teach future educators in their sophomore, junior, or senior years of high school. This program provides its cadets with a project-based and practicum-centered curriculum which exposes students to the wonderful realities of teaching at an early age.
App State will be partnering with these classrooms during the school year in a variety of ways:
providing mini-grant funding,
sending some Teacher Cadets to a North Carolina Teacher Cadet Conference,
co-hosting a "Teacher Cadet Day" on the App State Campus with Watauga County Schools, and
pairing one App State faculty or staff liaison with each Teacher Cadet classroom!
"Sustaining partnerships is critical to the work we do in preparing educators," said RCOE Dean Melba Spooner. "The First Teach Program, funded in part by the $6,000 gift from the College Football Playoff Foundation, will provide the support to build opportunities for future teacher education majors and their home school districts."
###
Related Stories:
https://www.wataugademocrat.com/blowingrocket/news/6-000-grant-from-college-football-playoff-foundation-to-go-toward-wcs-teacher-cadet-program/article_98b4feb0-38fe-11ed-bddc-63bcadcb4703.html
https://www.wataugademocrat.com/news/local/wcs-teachers-recognized-on-college-gameday-two-awarded-1-000/article_8a998a04-36b4-11ed-9e41-d30aeaeb3030.html