Dr. Margaret Werts, a professor in the Department of Reading Education and Special Education, has been named a recipient of a Cratis D. Williams School of Graduate Studies 2017-2019 Graduate Research Associate Mentoring Program (GRAM) Award. Werts will be collaborating with Dr. Cate Smith, an assistant professor in the Department of Reading Education and Special Education.
GRAM Awards are designed to provide research-active faculty with the opportunity to mentor talented graduate students through collaborative work on the faculty members' research projects.
Allison Collins, the student they will be mentoring, is currently completing her bachelor's degree in special education as well as K-12 licensure requirements for teaching students with mild to moderate disabilities. Collins will then begin graduate studies in reading education at Appalachian.
Their project titled "Use of iPad Mini Devices to Increase Communicative Events for Students with Severe Cognitive and Language Deficits" will explore the use of iPads with communication applications as tools to help students with significant cognitive disabilities and moderate to severe communication needs better express their needs and desires.
The mentoring that Collins will receive will include the process of taking a project from conceptualization to dissemination as well as field-based research into teaching methods that she can later use in her own classroom.
Collins' role will be robust. She will:
Act as a liaison between the classroom and the investigators;
Work with Appalachian's IRB to complete paperwork for ethical conduct of research;
Collect, manage and analyze data;
Develop dissemination materials;
Contribute to scholarly articles and conference presentations.
Furthermore, she will work collaboratively with Smith and Werts, who will provide regular feedback and guidance.
Students receiving GRAM awards are paid $12,000 per academic year for a commitment of 20 hours per week and are required to participate in professional development sponsored by the Graduate School. Support is guaranteed for four contiguous academic-year terms only. Faculty mentors must be tenured/tenure track and have a documented record of accomplishment of mentoring student research.
Werts earned her Ph.D. in Special Education from the University of Pittsburgh, Ed.S. in Special Education from the University of Iowa, M.A. in Special Education from the University of Texas and B.A. from Emory University. She joined Appalachian's faculty as an assistant professor in 1998, and has since served as an associate professor and professor. She is a certified Braillist through the Library of Congress. Her recent research has been in the area of efficacy of instructional practices, specifically the use of instructive feedback with students with disabilities.
Smith joined Appalachian's Reich College of Education faculty in 2013. Previously, she taught elementary, secondary, and postsecondary students with moderate to severe disabilities in Tennessee. Smith earned her Ph.D. in Education, M.S. in Teacher Education and B.A. from the University of Tennessee. Her research interests include supporting learners with intellectual and developmental disabilities through the use of mobile technologies in academic, social, communication, and vocational skill development.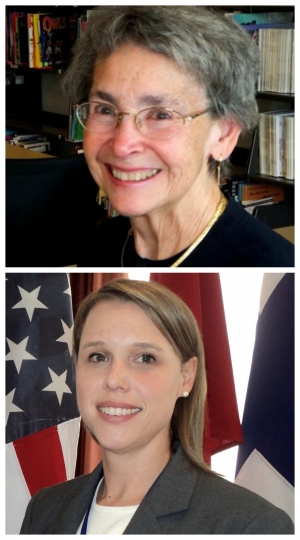 Tags: