Doctoral student and alumna Michelle Derouin, originally from Charlotte, North Carolina, received the North Carolina Teacher of the Year Award from the North Carolina Association of Family & Consumer Sciences (NCAFCS). Derouin was to be recognized at the annual conference in March for her service and contributions to the family and consumer sciences profession; however, due to COVID-19, the conference was cancelled.
"It is an incredible honor and awe-inspiring to be selected from one's professional peers for this award," said Derouin. "It is definitely a confirmation on the direction and quality of family and consumer science program I have been a part of building at my school." She teaches grades nine through twelve at R.W. Reagan High School, which is part of Winston Salem Forsyth County Schools (WSFCS).
The NCAFCS Teacher of the Year Award "recognizes exemplary FCS teachers who utilize cutting-edge methods, techniques, and activities to provide the stimulus for and give visibility to family and consumer sciences elementary and secondary education." Derouin will now move on to the National level, submitting a portfolio by January 2020.
Derouin received her Bachelor of Science degree in textile products design and marketing from the University of North Carolina at Greensboro, her Master of Arts in teaching family and consumer sciences education from North Carolina Agriculture and Technical State University, and her Ed.S. in higher education from Appalachian State University. She is currently enrolled in the doctoral program in educational leadership at Appalachian, focusing on a concentration in educational administration.
Appalachian was Derouin's first choice because of "its mission statement of preparing responsible students who embrace their role in creating a sustainable future and the rich history of offering a challenging yet, supportive environment for all students."
Appalachian was Derouin's first choice because of "its mission statement of preparing responsible students who embrace their role in creating a sustainable future and the rich history of offering a challenging yet, supportive environment for all students."
She also chose Appalachian for "the faculty research interests and the tiered program options the Reich College of Education offers to students and working professionals."
"You are the Designer," says Derouin about her teachosophy. "If you asked my students to describe or quote me they most likely would say that statement. Either drafting a garment or house demands critical thinking and problem-solving skills. It is most extraordinary to see what students can do once they are released from the confines of the answer they believe you want."
After completing her doctorate, she hopes to move into career and technical education leadership either at the local or state level. "I hope to have a greater impact on students and teachers in North Carolina."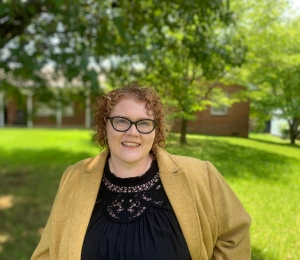 Tags: