Middle grades major, Nia Robinson, from Kannapolis, North Carolina, received the Peer Mentor Award from the Black Student Association for "providing outstanding support to her peers through mentorship, friendship, and academic support."
Receiving this award was both a surprise and an honor for Robinson. "What is so surprising about receiving this award is I just try to live my life supporting others; I don't consider it anything special. I genuinely want the best for everyone, and sometimes in college it takes a little bit more encouragement and love from others to be our most successful self," she said.
She continued, "I am so grateful to receive the award. If anything I hope this award inspires others to lend a helping, supportive hand, because we are all in this together!"
Associate Director of Admissions for Teacher Education, Octavia Little, noted, "Nia has an infectious personality and is a natural leader! She leads by encouraging and empowering those around her. She maintains high expectations for herself and others, all while being empathetic and encouraging."
Robinson is impacting education through her involvement on campus. She currently serves as the president for the Appalachian Educators Club. "We put on numerous events and support local schools in the community through volunteer work and fellowship," noted Robinson.
"Everyday, Nia serves her community, shares her passion, and exudes positivity not only in APPED but at Appalachian as a whole."

Megan Kasper, Assistant Director for Student Engagement for the James Center for Student Success and Advising, said, "Nia's motto this year as Appalachian Educator's president is 'Not just another year, not just another person'. She strives to make every person in a room feel valued and to make the greatest impact she can."
On receiving this award, the Appalachian Educators Club posted, "Everyday, Nia serves her community, shares her passion, and exudes positivity not only in APPED but at Appalachian as a whole."
Robinson is also one of the Reich College of Education's Education Peer Ambassadors. "We work primarily with prospective students giving them tours of the building and telling them about our love for the university and the college of education," said Robinson.
Kasper noted, "She does it all! ACES, AppEd, EPA, SOUL...and does it well! I would be worried about any student taking on as much as she does but she does it with ease, grace, and balance."
Choosing Appalachian was a process for Robinson. "I really 'chose' Appalachian when I began to get involved, and I began going to the James Center and meeting new people and seeing how the staff within the Reich College of Education cared about their students and seeing the passion they had to make us the best teachers we can be," she noted.
Robinson's advice to prospective students is to stay strong. "Studying to be a teacher can be hard because we may not always get the encouragement and support from others to stay in the field. There is a lot of negative attitudes towards education but continue to believe that you can be the change!"
Robinson is anticipated to graduate May 2020. She plans to attend graduate school to be a school counselor.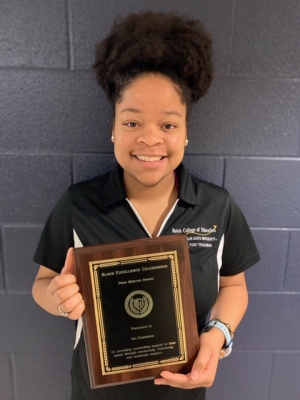 Tags: