As part of Media Literacy Week, join experts in media literacy education for a special panel event centered on the documentary film Trust Me, including Appalachian State University's Dr. Theresa Redmond, associate professor in the Department of Curriculum and Instruction, and Mark Coltrain, associate professor in the library. They, along with alumna Jimmeka Anderson '17, will discuss the manipulation of information online and how media literacy education is positioned as a tool for critical inquiry in our increasingly digital world.
Date: Tuesday, October 26, 2021
Time: 1:00 pm - 2:00 pm
Location: Zoom (Register for link)
For disability accommodation, visit odr.appstate.edu.
About the film
Trust Me is a feature-length documentary exploring human nature, information technology, and the need for media literacy to help people trust one another, bring them together and create a more resilient population.
Anderson is a featured expert in the film.
App State's Belk Library has licensing for the film through Kanopy so that any affiliated students, staff, or faculty can view the film prior to the panel discussion.
About Media Literacy Week
The annual U.S. Media Literacy Week is hosted by the National Association for Media Literacy Education (NAMLE). The mission is to highlight the power of media literacy education and its essential role in education all across the country. U.S. Media Literacy Week calls attention to media literacy education by bringing together hundreds of partners for events and activities around the country. This year, it will be held October 25-29, 2021.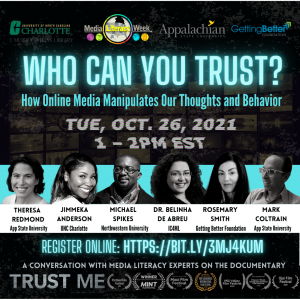 Tags: