The Reich College of Education (RCOE) Public School Partnership Mini-Grants Committee awarded $30,770.85 in mini-grants for the 2021-2022 academic year, helping make an impact in area schools.
The selected projects focused on equity, diversity, and inclusion and incorporated innovation, sustainability, and collaboration.
"The Public School Partnership Mini-Grant Committee has been thrilled to see the amount of interest and the number of applications increase over the past three years," said Dr. Betsy Rosenbalm, director of the Public School Partnership.
"The Public School Partnership functions to support and increase capacity in our partnering P-12 schools," noted Rosenbalm. "By increasing the number of resources and experiences our partnering schools receive through these mini-grants, we are truly able to provide that tangible support!"
The Public School Partnership includes district partners from Alexander, Alleghany, Ashe, Avery, Burke, Caldwell, Watauga, and Wilkes counties as well as Elkin City Schools, Newton-Conover City Schools, Winston-Salem/Forsyth County Schools, the North Carolina School for the Deaf, and the Appalachian State University Academy at Middle Fork.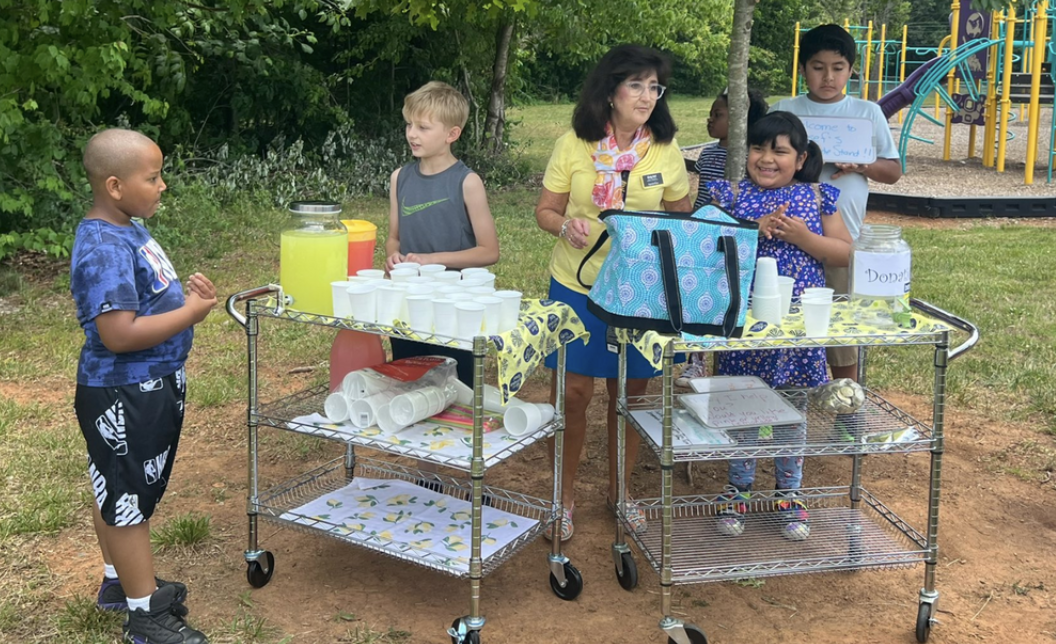 Appalachian State University's Academy at Middle Fork's project incorporated creating a lemonade stand. Photo submitted.
The call for proposals and application evaluation for the 2022-2023 academic year will begin in August.
The projects are as follows:
Summer 2022
Project: Ashe/ACES Partnership
Amount: $1,000.00
Recipient: Roy Putman, Director of Human Resources/Public Information Officer
School: Ashe County Schools/ACES
District: Ashe County Schools
Project: Great Learning in the Great Outdoors
Amount: $977.00
Recipient: Olivia Boudwin, Pre-Kindergarten Teacher
School: Bethel ES
District: Watauga County Schools
Project: Daily Living Revamp
Amount: $380.00
Recipient: Kristin Williams, Special Education Teacher, 9-12 grades
School: Alleghany HS
District: Alleghany County Schools
Project: Mad About Math and Science
Amount: $951.00
Recipient: Sabrina Ehlenberger, Special Education Teacher, K-5 grades
School: Blowing Rock ES
District: Watauga County Schools
Project: Pages for Ages
Amount: $858.79
Recipient: Taylor Hughes, K-2 Deaf Plus Teacher
School: NC School for the Deaf
District: DPI; ESDB
Project: Get Tactile with It!
Amount: $1,000.00
Recipient: Heather Padilla Seaton, Pre-Math I & Math I Middle School Teacher
School: Blowing Rock ES
District: Watauga County Schools
Project: Family Arts Night
Amount: $650.00
Recipient: Jill Bellia, Art Teacher
School: Elkin ES
District: Elkin City Schools
Project: Future Difference Makers
Amount: $927.85
Recipient: Krista Dancy, 5th Grade Teacher
School: Parkway ES
District: Watauga County Schools
Project: Decodable Readers
Amount: $703.97
Recipient: Courtney Bauguess, 1st/2nd Grade Teacher
School: Rhonda Clingman ES
District: Wilkes County Schools
Project: School-Wide STEAM Program
Amount: $950.93
Recipient: Kelly Luna, 6th Grade ELA & Social Studies Teacher
School: Glade Creek ES
District: Alleghany County Schools

Spring 2022
Project: Bring on the Good News!
Amount: $999.66
Recipient: Jordan Nemeth, 3rd Grade Teacher
School: Mountain View Elementary
District: Ashe County Schools
Project: Teaching Climate Change through Picture books
Amount: $963.00
Recipient: Morgan Blanton, Clinical Assistant Professor in the Department of Reading Education and Special Education at Appalachian State University; Damiana Pyles, Associate Professor in the Curriculum & Instruction Department at Appalachian State University
School: All partnership schools will be invited
District: All partnership districts will be invited
Project: Oh the Places We Can Go with Reading and Writing
Amount: $993.25
Recipient: Heather Houston, 5th Grade Teacher
School: Taylorsville Elementary
District: Alexander County Schools
Project: Chick Flick
Amount: $979.48
Recipient: Jodi Blackwell, EC Teacher
School: Hardin Park Elementary
District: Watauga County Schools
Project: Start Spreadin' the News about using Children's SEL Literature to Design Fantastic Elementary Music Classes
Amount: $560.80
Recipient: Mazie Sullivan, Music Teacher
School: Westwood Elementary and Appalachian State University's Hayes school of music
District: Ashe County Schools
Project: Completing Our School's First-Ever Library
Amount: $996.16
Recipient: Olivia Van Buskirk, 10th Grade English Teacher
School: Wilkes Early College High School
District: Wilkes County Schools
Project: Opening Doors for Special Learners
Amount: $889.00
Recipient: Shana Loudermelk, Special Education Teacher, K-5 grades
School: Taylorsville Elementary and Alexander Central High
District: Alexander County Schools
Project: Making it Add Up
Amount: $932.87
Recipient: Jesse Carswell, 3rd-8th Grade Deaf Plus Teacher
School: NC School for the Deaf
District: Educational Services for the Deaf and Blind (DPI)
Project: Meeting the Needs of our Gifted Learners in K-2
Amount: $976.35
Recipient: Sasha Murphy, 2nd Grade Teacher
School: Elkin Elementary
District: Elkin City Schools
Project: Exploring Refugee Experiences, Identity, Representation, and Advocacy
Amount: $913.89
Recipient: Alyssa Parsels, 2nd Grade Teacher
School: Valle Crucis Elementary
District: Watauga County Schools
Project: Flippin and Gaming in the New Age Class
Amount: $771.07
Recipient: Terry Gunnell-Beck, 5th Grade Teacher
School: Watauga Virtual Academy
District: Watauga County Schools
Project: Mini Mountaineer Volunteers
Amount: $1,000.00
Recipient: Alix Shaver, 4th Grade Teacher
School: Appalachian State's Academy at Middle Fork
District: Lab School
Project: Now We're Cooking!
Amount: $839.46
Recipient: Belen Ledezma, EC Teacher
School: Sparta Elementary
District: Alleghany Schools
Project: Building Collective Efficacy in Integrating SEL into CORE Practices
Amount: $991.20
Recipient: Heather Freeman, Principal
School: North Wilkes Middle School
District: Wilkes County Schools
Project: Self Awareness Through Movement
Amount: $720.56
Recipient: Taylor Hinrichs, 2nd Grade Teacher
School: Westwood Elementary
District: Ashe County Schools
Project: Letterland for Literacy Learning
Amount: $746.72
Recipient: Tracy Hale, Kindergarten Teacher
School: Mt. Pleasant Elementary School
District: Wilkes County Schools
Project: Yosef's Mini-Mountaineer Lemonade Stand
Amount: $524.90
Recipient: Cindy Hall, Speech Pathologist
School: Appalachian State's Academy at Middle Fork
District: Lab School
Project: Enrichment Playwriting, Acting, and Videography
Amount: $129.00
Recipient: Shannon Rogers, Middle School Teacher
School: Newton Conover Middle School
District: Newton Conover City Schools

Fall 2021
Project: Making Math Meaningful
Amount: $872.00
Recipient: Kaleb Redd, Middle Grades Math Teacher
School: Sparta School
District: Alleghany
Project: Math Manipulatives for Deaf Students
Amount: $678.00
Recipient: Mikaela Shimko, Math Teacher, 9-12 grades
School: NC School for Deaf
District: NCSD/ESDB
Project: Unique 3D ASL Sculptures
Amount: $896.00
Recipient: Jennifer Willet, Art Teacher, K-12 grades
School: NC School for Deaf
District: NCSD/ESDB
Project: Classroom Design for Sensory Needs
Amount: $956.00
Recipient: Rachel Barefoot, K-1 Teacher
School: NC School for Deaf
District: NCSD/ESDB
Project: Preparing Students for Hands-on, Lab-based Science in High School
Amount: $976.00
Recipient: Christopher McCollum, Physical Science Teacher
School: Alexander Central High School
District: Alexander
Project: Culturally Responsive Leadership
Amount: $999.00
Recipients: Kori Trainor, Instructional Coach for School Improvement; Chantae Reynolds, Multilingual Learner Teacher
School: Academy at Middle Fork
District: App State
Project: Fill the Genre Gaps
Amount: $993.00
Recipient: Olivia Van Buskirk, 10th Grade English Teacher
School: Wilkes Early College High
District: Wilkes
Project: STEAM Education: Enhancing Critical Thinking Skills in Biology
Amount: $1,074.00
Recipient: Rebecca Dupuis, Biology and Instructional Coach
School: Alexander Central High School
District: Alexander