"North Carolina Teacher Cadet is a solution that continues to work toward addressing the teacher shortage and closing the diversity gap within the teaching profession," said Christian Martin, a junior middle grades education major.
Last November, Martin had the opportunity to present at the North Carolina Department of Public Instruction AIM (Accelerated, Invigorate, and Motivate) Conference on the North Carolina Teacher Cadet Program, which is a teacher recruitment program for high school students.
Along with North Carolina Foundation for Public School Children Executive Director Marca Hamm, English education major at the University of North Carolina at Wilmington Tre Woods, Winston Salem/Forsyth County Schools (WS/FCS) eighth grade teacher Joel Leath, and WS/FCS high school teacher Stephanie Wallace, Martin shared the presentation entitled Depending Social Capital with North Carolina Teacher Cadet Program: Teachers, Mentors, and Leaders | Grow your own Diverse Teacher Workforce.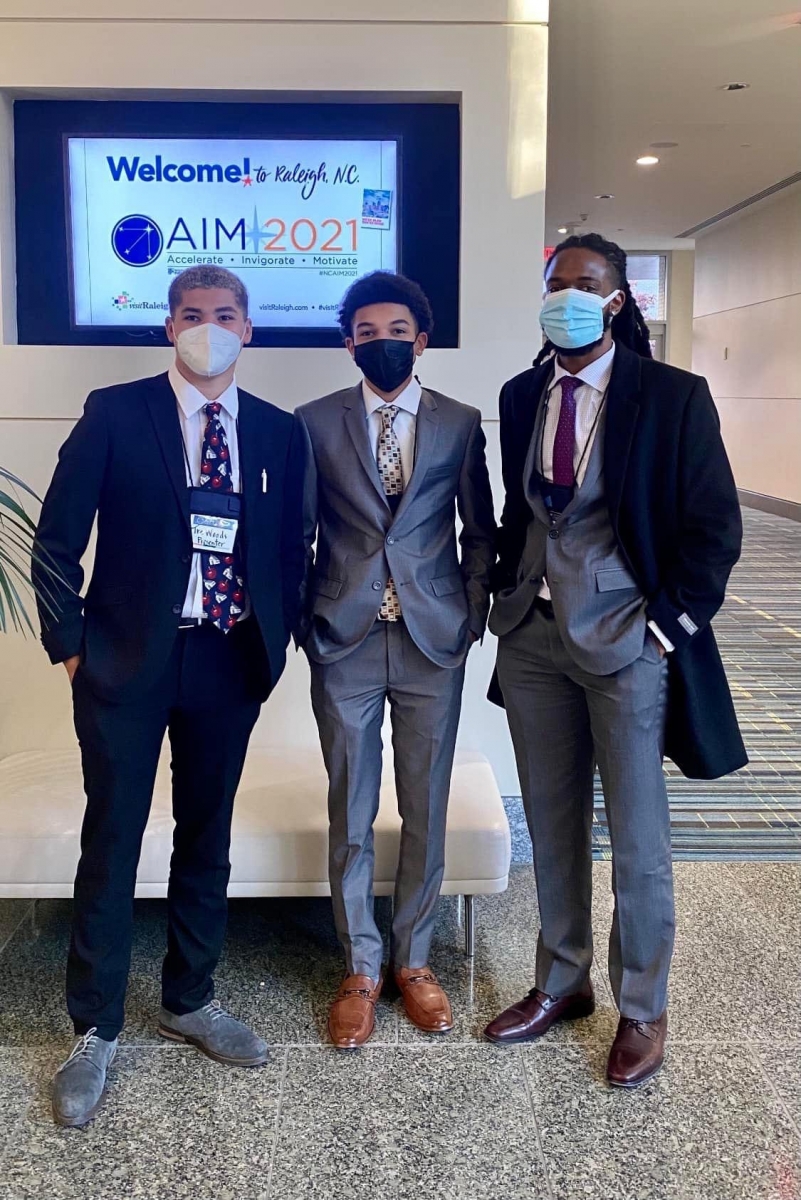 Pictured left to right: Tre Woods, Christian Martin, and Joel Leath after their presentation at the Convention Center in Raleigh, North Carolina. Photo submited.
The presentation focused on the North Carolina Teacher Cadet Program being a "solution for the teacher shortage and the lack of educators who reflect student demographics, both of which lead to increased student achievement, graduation, and career preparedness."
The group hopes to work with the foundation to continue advocating for the Teacher Cadet Program in North Carolina.
Originally from Winston Salem, North Carolina, Martin enrolled in his school's teacher cadet program during his junior year of high school. "As a two year teacher preparation program, I attended state conferences, met with legislators, and connected with educators across the state."
"My work truly began when I was elected as the State Social Media Director for the program," he continued. "As a member of the state leadership team, we planned the 2019 Teacher Cadet State Conference in Raleigh, North Carolina."
Martin has always known that he wanted to be a teacher. "Through my experiences working with students as both a tutor and mentor, I realized that my love for helping others is a passion."
"Teaching is more than academics. It's mentorship, advocacy, and a commitment to growing lifelong learners who will one day make a difference in the world."
"Teachers make long-lasting impacts and the chance to help students grow as young learners is an opportunity that I would never take for granted," he added. "Teaching is more than academics. It's mentorship, advocacy, and a commitment to growing lifelong learners who will one day make a difference in the world."
When asked why he chose App State, Martin responded, "It has one of the best reputations for producing quality educators."
"This, along with the physical location really caught my attention when applying to colleges," he added. "After attending an open house and meeting faculty, staff, and students-- I knew that Appalachian was indeed the place to be."