Sara Vess, a sophomore elementary education major originally from Indian Land, South Carolina, has been named the Appalachian State University 2017-2018 Student Employee of the Year.
She will receive a $1000.00 scholarship for the 2018-2019 year and will be recognized at the Student Leadership and Legacy Awards ceremony, which will be held on Friday, April 20 at 5:30 pm in the Parkway Ballroom of Appalachian's Plemmons Student Union.
Vess is also a transfer student and in her first year at Appalachian. Vess works as a student employee at Appalachian's Child Development Center (CDC). She was nominated by her supervisor, Ellyn Andrews, CDC director.
About being at Appalachian and working at the CDC, Vess said:
I have dreamed of being an elementary teacher my entire life. I am achieving this dream through my job at the CDC. My work there is furthering my knowledge and understanding of my coursework.
Vess shared that she plans to graduate in the spring of 2020 and hopes to continue working with children as an elementary school teacher.
My passion is for all children to know that they matter. I want to teach and reach each individual who enters my classroom!
Andrews nominated Vess for this honor because of her passion for the work and her commitment to the CDC and her colleagues.
Andrews said, "Sara demonstrated an outstanding passion for her job by going above and beyond her normal responsibilities. She takes the extra effort in lifting up students and teachers alike. She has willingly filled in any gaps being flexible to work in all areas at the CDC. She has even gone the extra mile in bringing students to work at the CDC during inclement weather."
This award is facilitated by Appalachian's Career Development Center. Each year supervisors of student employees are asked to submit a nomination for an outstanding student. Nominees are then evaluated based on the following criteria:
Uniqueness of Contribution
Quality of Work
Initiative
Disposition/Attitude
Adaptability
Reliability
Les Miller, Student Employment Coordinator, reported that Vess was selected because the Student Employment Advisory Board was "greatly impressed by her initiative and her passion."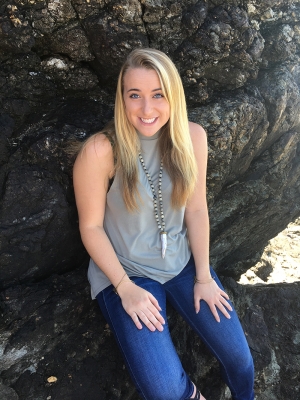 Tags: