On a frightfully damp and chilly Saturday late in October, costumed creatures gathered on the fog-shrouded campus of Appalachian State University for the 8th annual Spooky Duke Race and Costume Contest.
The Halloween-themed fundraising and awareness raising event is a USA Track & Field (USATF)-certified 5K and 10K race with a free costume march and contest where children, adults, and pets can all show off their unique costumes and share in the fun. Spooky Duke is named in honor of Dr. Charles R. Duke, event sponsor and former dean of Appalachian's Reich College of Education (RCOE).
This year, 374 walkers/runners participated and 75 volunteers helped make the event successful. With sponsorships, donations and participation fees, the event raised over $11,000. Thanks to a $10,000 matching grant from the Health Foundation, Inc. the total raised is over $21,000.
All proceeds benefit Appalachian State University's Parent to Parent Family Support Network-High Country (FSN-HC), housed in the RCOE. Parent to Parent FSN-HC provides free support and information to families who have a premature baby; a child with a disability, an emotional or behavioral challenge, a mental illness or a chronic health condition; or to families who are grieving the death of a child. The program serves Alleghany, Ashe, Mitchell, Watauga, Wilkes and Yancey counties.
Parent to Parent FSN-HC would like to thank participants and sponsors for their contributions.
--With appreciation, Parent to Parent FSN-HC
Related Stories
Spooky Duke 2018 scares up fun and funds for High Country families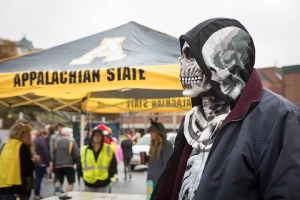 Tags: