Appalachian State University's Gadugi Partnership (housed in the Reich College of Education), Honors College, and Chieftains Museum/Major Ridge Home are hosting three speakers as part of the Celebrating Sequoyah event. The three events will be honoring the bicentennial of the Cherokee Syllabary.
September 15: Ayla Cruz Bryant, a teacher at Kituwah Academy Immersion School will be presenting. Bryant is from Cherokee, North Carolina, and studies early childhood education at Southwestern community college. (Request Zoom link)
October 11: Catcuce Tiger, a Cherokee language teacher at Cherokee high school, will be presenting. (Request Zoom link)
November 10: James Standingdeer, a Cherokee language scholar and activist, will be presenting. Standingdeer is from Cherokee, North Carolina, and studied at the University of Wisconsin-Madison. (Request Zoom link)
All events will be held online via Zoom at 7:00 pm. For more information call 828-262-3152 or email bryantja@appstate.edu. For a disability accommodation, visit odr.appstate.edu.
Why Attend
The series of lectures are part of the celebration of Sequoyah and learning about the battle to preserve the Cherokee language.
Sequoyah was a Cherokee native who lived in the early 19th century, and after seeing the benefits of the written word in preserving language and culture, he began developing a Cherokee syllabary.
About the Gadugi Partnership
The Gadugi Partnership is led by Dr. Allen Bryant, associate professor in the Department of Curriculum and Instruction. The program's goals include student recruitment and teacher education at Cherokee High School, with the ultimate goal of working together — the meaning of Gadugi in Cherokee — to preserve Cherokee culture.
Through this partnership, the students have the opportunity to earn college credits for an elective course offered by Appalachian. Classes are taught on-site at the high school and through Skype and Google Hangouts by Bryant.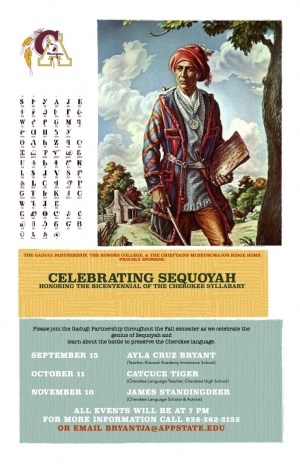 Tags: