Two Appalachian State University's Reich College of Education's graduate students, Karen Anderson and Samuel Duncan McMillan IV, will be featured speakers in one of the 2020 series of virtual town hall forums hosted by the North Carolina Alliance of Black School Educators and National Alliance of Black School Educators (NABSE) Southeast region.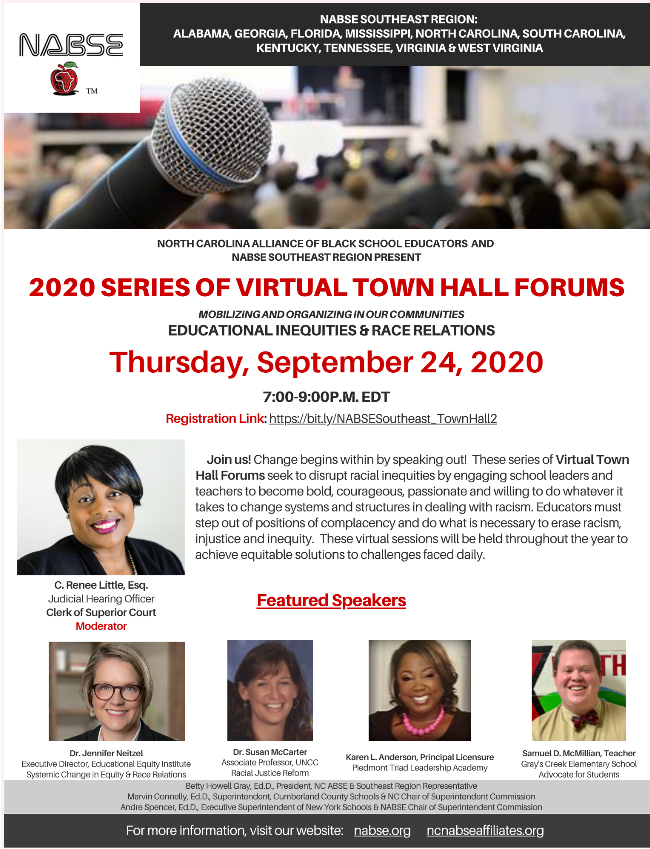 The panel will also include C. Renee Little, Esq., Judicial Hearing Officer Clerk of Superior Court; Dr. Jennifer Neitzel, Executive Director of Educational Equity Institute; and Dr. Susan McCarter, associate professor at the University of North Carolina at Charlotte.
The series of forums seek to disrupt racial inequities by engaging school leaders and teachers to become bold, courageous, passionate and willing to do whatever it takes to change systems and structures in dealing with racism. Educators must step out of positions of complacency and do what is necessary to erase racism, injustice and inequity. These virtual sessions will be held throughout the year to achieve equitable solutions to challenges faced daily.
The forum with Anderson and McMillan will be Thursday, September 24, 2020, at 7:00 pm. Register here: https://bit.ly/NABSESoutheast_TownHall2.
Anderson became involved with the NABSE Southeast Region Series of Virtual Town Hall Forums through her dissertation chair, Dr. Alicia Muhammad, Associate Director of the James Center for Student Success and Advising.
"Dr. Muhammad knows, understands, and helps cultivate my passion for equity, inclusion, and anti-racist educator preparation," she noted.
McMillan became involved with the NABSE Southeast Region Series of Virtual Town Hall Forums with an invitation from Muhammed.
"She helped me and our cohort truly dive into the complexities and realities of Critical Race Theory and how to address the inequity and inequality in public education," said McMillan.
Anderson said participants in the forum should be willing to "Embrace their responsibility to make an impact within their sphere of influence and beyond. The world is waiting for each of us to leave a positive and long-lasting impact!"
"I am honored and excited to be a part of this opportunity," she added.
"I would hope those involved with the forum are able to find additional resources to advocate for their black students," added McMillan. "This advocacy would take the form of policy and address inequities within their schools and districts."
McMillan continued, "It has been an honor to be asked to serve beside the NABSE on this panel. Their seven focus areas are of extreme importance. I hope as a classroom teacher and future administrator I can help to achieve those focus goals in conjunction with the NABSE."
Anderson, of Whiteville, North Carolin, is currently working on her Ed.D. in educational leadership at Appalachian. She received her B.S. in elementary education from North Carolina State University, her Master of School Administration from the University of North Carolina at Greensboro, and her Educational Administration Specialist from Appalachian. She is currently the Cohort Director for the Wake Principal Leadership Program at North Carolina State University.
Anderson chose Appalachian because "I appreciated the innovative design and flexibility of their program."
"The Ed.S. to Ed.D. transition was very intentional, well-thought-out, and beneficial for me as a student," she continued. "Additionally, the blended learning approach was intriguing because this was a fairly new practice when I began and I wanted to be immersed in digital teaching and learning so that I could transfer those skills into my everyday practice."
In her role, Anderson serves pre-service school administrators.
"Great principals have a multiplier effect. Principals impact student achievement, teacher retention, and influence the school and school community," she added. "Having the opportunity to support and coach principals who will serve in high-needs schools refuels my passion daily."
After graduating from Appalachian State, Anderson hopes to continue supporting and preparing pre-service school administrators through innovative principal preparation programming.
"School leaders are change agents," noted Anderson. "We are charged to make our learning environments rich, inviting spaces that are conducive to rigorous teaching and learning for every student. As John Maxwell says, 'Everything rises and falls on leadership.' During this micro-political and racially intense time in our nation, we must fearlessly, passionately, and strategically leverage our knowledge, power, and influence to evoke the change we hope to see."
McMillan, of Fayetteville, North Carolina, is currently working on his Master of School Administration at Appalachian and is a kindergarten teacher at Gray's Creek Elementary School. He received his B.S. in education from Campbell University.
"Appalachian has always been near and dear to my heart," said McMillan. "The setup of the program is what pulled me to choose it over other graduate programs."
"The cohort model is also a draw, in that it builds a great community across the various graduate programs," he added. "These relationships can then build upon in our professional settings as well."
"As a kindergarten teacher I have been deliberate in the language used in my class," said McMillan. "We have tried to create an atmosphere that shows all of our students in written works and texts. Particularly making sure that my students see stories and characters that they can relate and identify with."
After graduation, McMillan's goal is to find an assistant principal position and "continue to advocate for structural and policy change."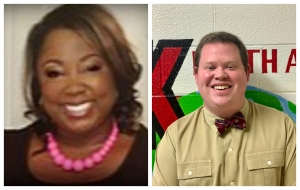 Tags: