Mountaineer Readers were recognized for their reading achievements during Appalachian State University's Education Day football game on Saturday, November 13, 2021.
The Mountaineer Readers initiative began in the fall of 2007 as a partnership between the Reich College of Education (RCOE), the Public School Partnership (PSP), and App State Athletics with the purpose of supporting literacy in our surrounding counties. The group included students from the PSP schools in ten area counties.
The PSP provides a beneficial collaboration between App State, RCOE, and P-12 public schools in Northwest North Carolina. It includes schools and school districts from the following areas: Academy at Middlefork, Alexander, Alleghany, Ashe, Avery, Burke, Caldwell, Elkin City Schools, Newton-Conover City Schools, North Carolina School for the Deaf, Watauga, and Wilkes.
Making Connections
In addition to attending the football game, the top readers were treated to a virtual gathering via Zoom, where they met with football players, cheerleaders, dance team members, and Dr. Betsy Rosenbalm, director of the RCOE Public School Partnership.
Everyone shared their favorite books and school subjects. The students also had the opportunity to ask questions of the football players, cheerleaders, and dance team members about being a student-athlete.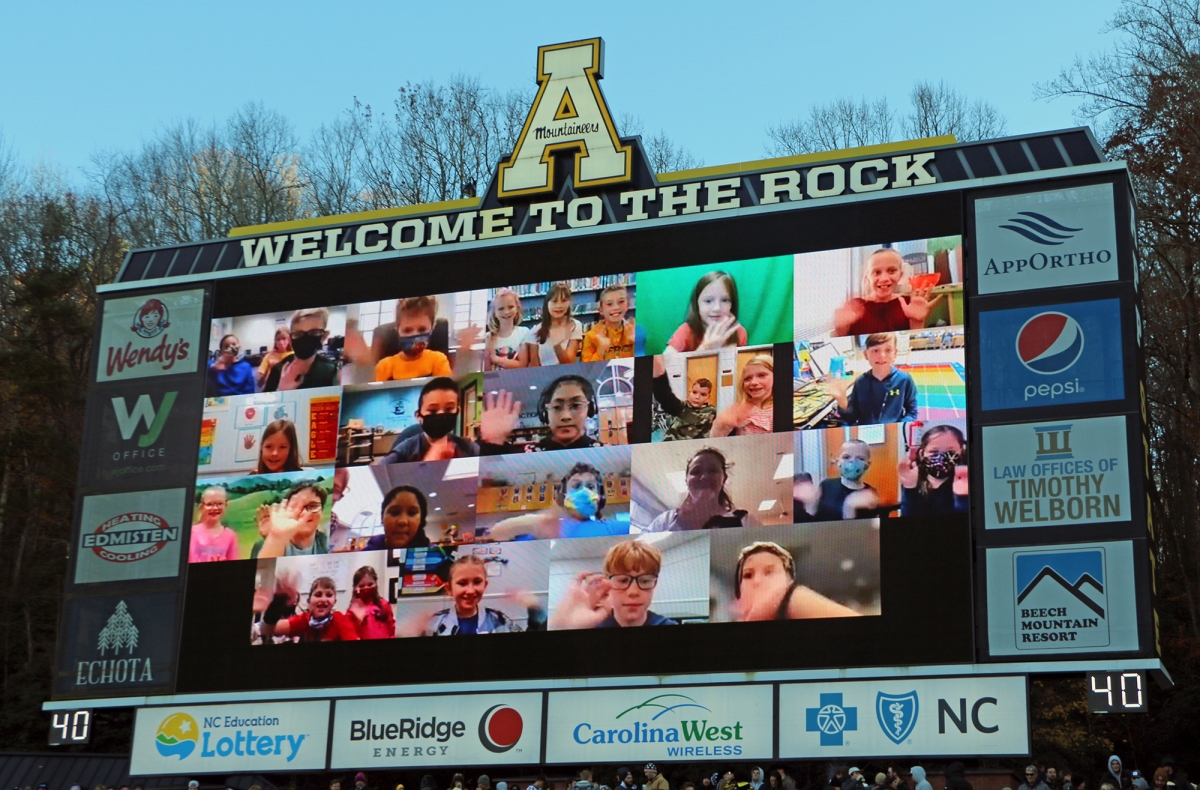 "There were so many proud moments throughout the Mountaineer Readers event - from meeting the 25 smiling winners online to greeting them at the game with celebratory treats and tickets, to cheering them on in the stands as their faces were proudly presented on the Jumbotron," said Rosenbalm. "We hope each winning Mountaineer Reader felt as honored and pleased with their accomplishments as the RCOE community felt for them!"
The overall top readers were:
From the Academy At Middle Fork:

Grade 1-2: Luke Williams
Grade 3-4: Arley Espinoza-Caballero
Grade 5: Neyralit Garcia-Panchi

From Alexander County:

Grade 1-2: Macey Walker
Grade 3-4: Aubrey Powell
Grade 5: Jacob Huffman

From Alleghany County:

Grade 1-2: Elizabeth Flowers
Grade 3-4: Kayden Billings

From Ashe County

Grade 1-2: Keilon Reedy
Grade 3-4: River Poplin
Grade 5: Braeden South

From Avery County:
From Burke County:

Grade 1-2: Eduardo Esquicel Romero AND Gemma Franklin (TIED)
Grade 3-4: Claire Huffman
Grade 5: Nolan Russ

From Caldwell County:

Grade 1-2: Camden Masciarelli
Grade 3-4: Zackery Winebarger
Grade 5: Jenna Griffin

From Elkin City Schools:

Grade 1-2: Merrick Russell
Grade 3-4: Kamdyn Tilley
Grade 5: Sadie George Wagoner

From Watauga County:

Grade 1-2: Adelaide Lancaster
Grade 3-4: Emory Kerns
Grade 5: Sawyer Cade Blackburn

From Wilkes County:

Grade 1-2: Aaleigha Hodge
Grade 3-4: Colton Cannon
Grade 5: Mallory Cockrell
At the game, students received a pencil pouch of school supplies and goodies. For many of these students, it was their first college football game - for others, their first visit to a college campus. The game day weather was a bit chilly, but a great time was had by all!
About Mountaineer Readers
For almost 15 years, the Mountaineer Readers initiative has encouraged and celebrated reading at area schools.
This year, participating students read books of their choosing during the summer months and recorded their reading on a log provided by App State Athletics. Students then turned the log into their school's media center coordinator the first week of school.
RCOE processed a tally sheet from each school and announced the top readers in grades 1-2, 3-4, and 5 in each county. These top readers were recognized at App State's annual Education Day football game.
In addition to the recognition of the top readers, the top school with the most pages read was Wilkesboro Elementary School in Wilkes County. They will receive a virtual pep rally from App State Athletics. Following Wilkesboro Elementary School, other top schools were Ellendale Elementary School (Alexander County), Mountainview Elementary (Ashe County), Westwood Elementary School (Ashe County), Valdese Elementary School (Burke County), Miller's Creek Elementary School (Wilkes County), and Academy at Middle Fork. All top schools will receive a special video message from the App State football team and an App State swag item.
The top two classrooms were Vickie Winebarger's fourth grade classroom at Westwood Elementary School (Ashe County) and Monica Anderson's third grade classroom at Ellendale Elementary School (Alexander County). These classrooms will receive either a pizza or ice cream party.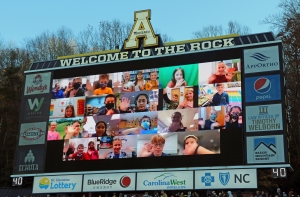 Tags: