Mountaineer Readers were recognized for their reading achievements during Appalachian State University's Education Day football game on Saturday, October 29, 2022.
The Mountaineer Readers initiative began in the fall of 2007 as a partnership between the Reich College of Education (RCOE), the Public School Partnership (PSP), and App State Athletics with the purpose of supporting literacy in our surrounding counties. The group included students from the PSP schools in ten area counties.
The PSP provides a beneficial collaboration between App State, RCOE, and P-12 public schools in Northwest North Carolina. It includes schools and school districts from the following areas: Academy at Elkin, Academy at Middlefork, Alexander, Alleghany, Ashe, Avery, Burke, Caldwell, Catawba, Elkin City Schools, Hickory Public Schools, Mount Airy City Schools, Newton-Conover City Schools, North Carolina School for the Deaf, Watauga, Wilkes, and Winston Salem/Forsyth County Schools.
Making Connections
In addition to attending the football game, the top readers were treated to a virtual gathering via Zoom, where they met with football players, cheerleaders, dance team members, and Dr. Betsy Rosenbalm, director of the RCOE Public School Partnership.
Everyone shared their favorite books and school subjects. The readers also had the opportunity to ask questions of the App State students about being a student-athlete.
"Being able to meet and greet our Mountaineer Readers each year is such an honor," said Rosenbalm. "There is so much excitement and pride surrounding these exceptional students and their families as they arrive for the big event!"
She added, "The RCOE staff and the App State Athletes find much joy in interacting with and congratulating these amazing students!"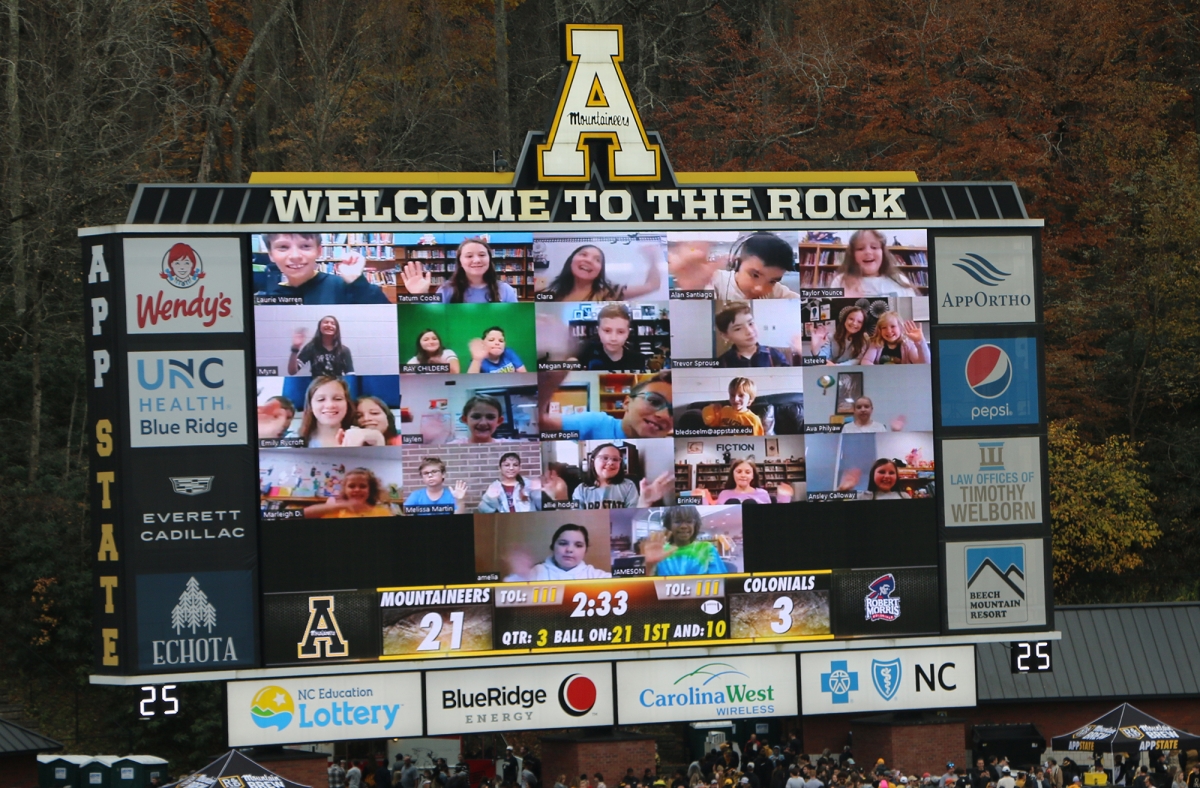 The overall top readers were:
From the Academy At Middle Fork:

Grade 1-2: Alan Santiago
Grade 3-4: Brinkley Macrow
Grade 5: Jameson Kankula

From Alexander County:

Grade 1-2: Clara Haithcox
Grade 3-4: Aubrey Powell

From Alleghany County:

Grade 1-2: Toban Ambler
Grade 3-4: Damon Rector
Grade 5: Amelia Peros

From Ashe County

Grade 1-2: Savannah Parsons
Grade 3-4: Laylen Hayes
Grade 5: River Poplin

From Avery County:

Grade 1-2: Corbin Bledsoe
Grade 3-4: Axyl Payne
Grade 5: Tatum Cooke

From Burke County:

Grade 1-2: Luke Drake
Grade 3-4: Kylianna Rose Tessener
Grade 5: Abigail Canter

From Caldwell County:

Grade 1-2: Taylor Younce
Grade 3-4: Trevor Sprouse
Grade 5: Ava Philyaw

From Elkin City Schools:

Grade 1-2: Kassidy Tilley
Grade 3-4: Kamdyn Tilley
Grade 5: Oliver Morris

From Watauga County:

Grade 1-2: Sam Warren
Grade 3-4: Clara McAllister
Grade 5: Myra McAllister

From Wilkes County:

Grade 1-2: Aaleigha Gale Hodge
Grade 3-4: Nicholas Johnston
Grade 5: Abby Gutierrez-Torres
At the game, students received a pencil pouch of school supplies and goodies. For many of these students, it was their first college football game - for others, their first visit to a college campus. The game day weather was perfect fall football weather, and a great time was had by all!
About Mountaineer Readers
For 15 years, the Mountaineer Readers initiative has encouraged and celebrated reading at area schools.
This year, participating students read books of their choosing during the summer months and recorded their reading on a log provided by App State Athletics. Students then turned the log into their school's media center coordinator the first week of school.
RCOE processed a tally sheet from each school and announced the top readers in grades 1-2, 3-4, and 5 in each county. These top readers were recognized at App State's annual Education Day football game.
In addition to the recognition of the top readers, the top school with the most pages read was Ellendale Elementary School in Alexander County. They will receive a pep rally from App State Athletics. Following Ellendale Elementary School, other top schools were Crossnore Elementary (Avery County), Wilkesboro Elementary (Wilkes County), Mountain View Elementary (Wilkes County), Baton Elementary (Caldwell County), and Academy at Middle Fork. All top schools will receive a special video message from the App State student athletes.
The top two classrooms were Sonia Beach's fifth grade classroom at Crossnore Elementary School (Avery County) and Angela Sizemore's fourth grade classroom at Ellendale Elementary School (Alexander County). These classrooms will receive either a pizza or ice cream party.