Mountaineer Readers were recognized for their reading achievements during Appalachian State University's Education Day football game on Saturday, November 14, 2020.
The Mountaineer Readers initiative began in the fall of 2007 as a partnership between RCOE and App State Athletics with the purpose of supporting literacy in our surrounding counties.
The group included students from the Public School Partnership schools in eleven area counties, as well as students from the Appalachian State University Academy at Middle Fork and from the Reich College of Education's (RCOE) Anderson Reading Clinic.
The Public School Partnership provides a beneficial collaboration between Appalachian State University and P-12 public schools in Northwest North Carolina. It includes schools and school districts from the following areas: Alexander, Alleghany, Ashe, Avery, Burke, Caldwell, Elkin, Newton-Conover City Schools, North Carolina School for the Deaf, Watauga, and Wilkes.
The Academy at Middlefork, located in Walkertown, North Carolina, is a partnership between Appalachian's RCOE and Winston-Salem/Forsyth County Schools. The Academy offers services for students in kindergarten through fifth grade and is one of nine University of North Carolina laboratory schools. The school opened in fall 2018.
The Anderson Reading Clinic, based on the Appalachian campus with additional sites locally and at the Academy, offers year-round teacher training, along with diagnostic and remedial reading services to children in the community.
Making Connections
This year's recognition looked very different from previous years. Instead of a visit to campus, the 15 top readers were treated to a virtual gathering via Zoom, where they met with football players, cheerleaders, Dr. Melba Spooner, dean of the RCOE, and Dr. Betsy Rosenbalm, director of the RCOE Public School Partnership.
Everyone shared their favorite books and what they have learned from the pandemic. The students also had the opportunity to ask questions of the football players and cheerleaders.
"The student winners were so polite, excited, and passionate about reading," said Rosenbalm. "It was quite refreshing to hear them share their favorite books and ask great questions to our student athletes! Our only regret is that we weren't able to meet the students in person!"
The overall top readers were:
Lane Baumgarner, Ellendale Elementary School
Neyralit Garcia Panchi, Academy at Middle Fork
Quinton Goss, Westwood Elementary School
Danett Hernandez, Academy at Middle Fork
Derek Hernandez, Academy at Middle Fork
Kassiti Hoke, Sparta School
Isadore Karchmer, Blue Ridge Elementary School
Emory Kerns, Blowing Rock Elementary School
Ali Lewis, Ellendale Elementary School
Claire Nance, Blowing Rock Elementary School
Gama Perez, Crossnore Elementary School
Parker Poore, Crossnore Elementary School
River Poplin, Westwood Elementary School
Evie Ray, Wittenberg Elementary School
Adalyn Thomas, Valdese Elementary School
Noah Thomas Valdese Elementary School
About Mountaineer Readers
For 10+ years, the Mountaineer Readers initiative has encouraged and celebrated reading at area schools.
This year, participating students read books of their choosing during the summer months and recorded their reading on a log provided by App State Athletics. Students then turned the log into their school's media center coordinator the first week of school.
RCOE processed a tally sheet from each school and announced the top readers in grades 1-2, 3-4, and 5 in each county. These top readers were recognized at Appalachian's annual Education Day football game.
In addition to the recognition of the top readers, the top schools with the most pages read were Ellendale Elementary School (Alexander County Schools), WIttenburg Elementary (Alexander County Schools), Crossnore Elementary (Avery County Schools), Westwood Elementary (Ashe County Schools), Blue Ridge Elementary (Ashe County Schools), Blowing Rock School (Watauga County Schools), and Appalachian Academy at Middle Fork. The schools will receive a special video message from the App State football team and an App State swag item.
The top two classrooms were Dana Hall's first grade classroom at Ellendale Elementary School and Brent Macrow's second grade classroom at the Academy at Middle Fork. These classrooms will receive either a pizza or ice cream party.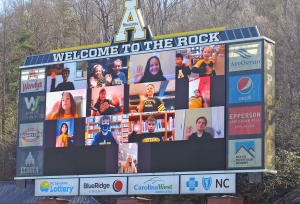 Tags: