Rhododendron Society
B. B. Dougherty displayed great energy and vision in 1899 when he established a training institute for the preparation of teachers. His legacy is the remarkable and exemplary accomplishments of our alumni.
To recognize these distinguished alumni, the Reich College of Education established the Rhododendron Society in 1999, Appalachian State University's centennial year.
The Rhododendron Society recognizes graduates of Appalachian whose service as teachers, librarians, human service professionals or administrators has reflected great credit on themselves, the field of education and the University.
The symbol of the rhododendron was selected because it is native to our state and blooms profusely on and around campus.
The symbol also is particularly significant for Appalachian because, for years, the yearbook of the university was called The Rhododendron, and within its pages were captured the many historical moments, activities, and accomplishments of Appalachian students.
Because the Reich College of Education wishes to celebrate alumni accomplishments and contributions, the Rhododendron Society will carry on the tradition.
Nomination Materials
Nominate an outstanding educator for the Reich College of Education Rhododendron Society Award!
Deadline: February 29, 2024
Rhododendron Nomination Form & Guidelines
2023 Rhododendron Society Inductees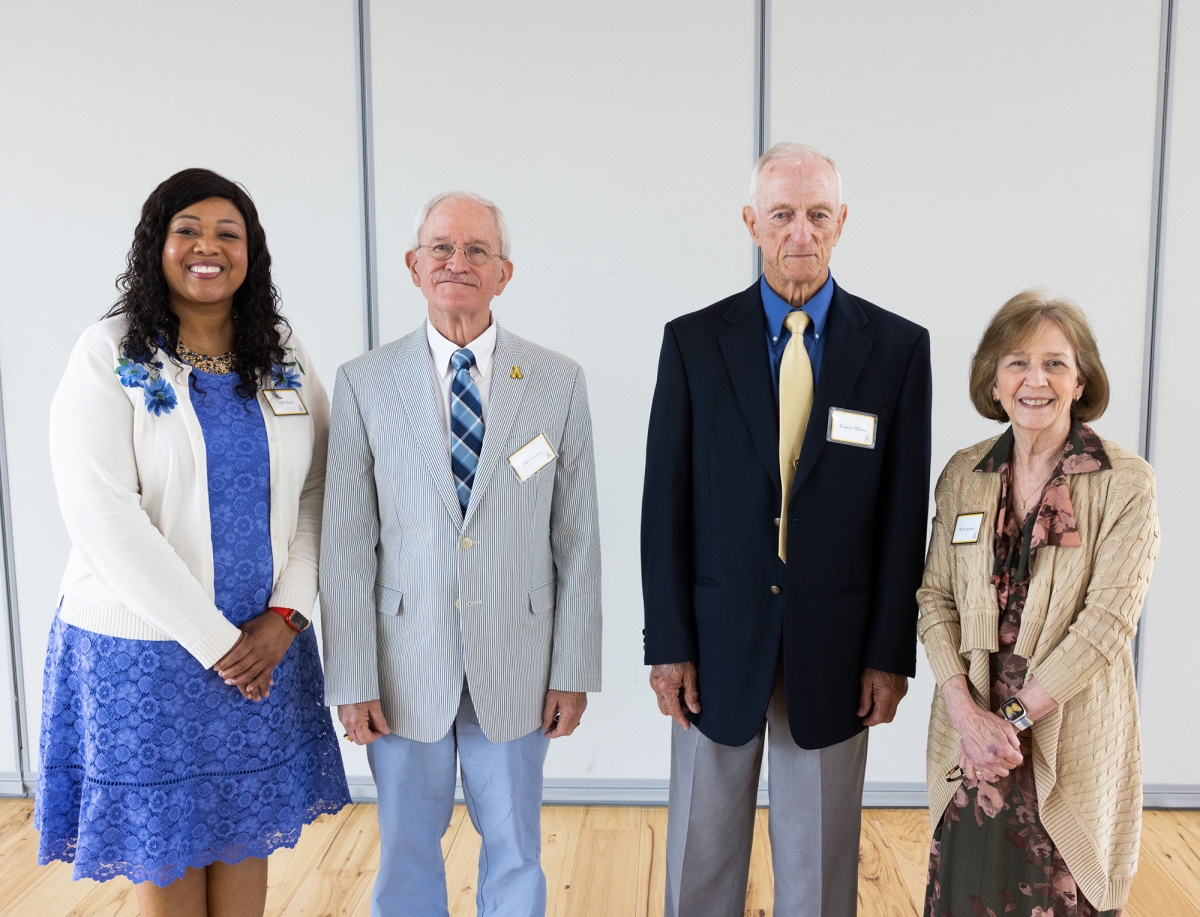 The 2023 inductees pictured with Dean Melba Spooner. Left to right: Nakia Hardy, Bill Witcher, and Tommy Wilson. Photo by Chase Reynolds.
Nakia Hardy '98
Tommy Wilson '61
William "Bill" Witcher '74 '87
Read the full story to learn more about the 2023 inductees.
Membership Additions by Year
2022

Jennifer Hefner '99 '03 '11
Barbara Lockee '86 '91
MaxineMcCall '60 '65

2021

Jack Hoke '74 '82 '84
Susan Dianne Little '71 '96
LaTonya M. Summers '84 '96

2020

Bill Brown '55 '58
Carol Deal '67 '78 '80 '83
Phillip Riggs '88

2019

Angela Quick '91
Dorothy "Dot" Case '69
Chris Moody '99

2018

Diana Beasley '11
John Bost '70, '85, '89
Daron "Chip" Buckwell '82, '83
Mary Hazel Farthing Mast '80

2017

James G. Daugherty '93 '94
Julia Kay "Kay" Rogers '69 '76

2016

Kim Blackburn-Morrison '91 '94 '10
Bob Mauldin '61
Dawn Wooten '89

2015

Chad S. Beasley '86 '97 '03
Bill G. Rhinehart '56 '57
T.R. Richards '84

2014

Jerry E. McGee '74
Michael H. Palmer '60
J. Warren Taylor '71 '83

2013

Ronald R. Beane '59 '74 '82
E. Gail Lentz Ford '74 '77
Garrett D. Hinshaw '90 '94

2012

William Campbell '72 '80 '88
Sam H. Houston, Jr. '65 '66
Colon Nifong '55 '56

2011

Richard A. Lapish '57
Ronald A. Matthews '81 '01
James M. Reeves '63 '65

2010

H.G. Jones '49
Mary Etta Moretz '64 '66
John B. Rogers, Jr. '69 '80 '84

2009

Carl Lewis Clarke '52 '77
Marie E. Furches '80
Cynthia "Cindy" Mullen Poe '76 '78 '82

2008

William D. "Bill" Killian '43 '60
Judy Gibson Mays '69 '72
Peggy Badgett Rickert '56

2007

Daisy Austin Adams '39
Robert D. Deaton '57 '58
Betty Anne Robinson Quinn '54

2006

JoAnne Vannoy Goetz '56
Gene W. Sweezy '54 '59 '81
William J. Viger '72 '73

2005

Chancel Brown '54 '61 '69 '71
Cleet C. Cleetwood '43
A.C. Larrimore '54 '57
Swanson W. Richards '52 '57

2004

Linda Morrison Combs '68 '78
Ruth Smith Greene '35 '62
Julian C. Yoder '33

2003

Bryce I. Gordon '49
Izoria Sheppard Gordon '49
Helen Beatty Heafner '43
L. Dent Miller '55

2002

Minnie Lou Edwards Irvin '41
John F. Woodruff '54
Richard Lee Zuber '54

2001

Everette Michael Latta '61 '64

2000

William R. Edwards '40
Nellie Gabriel Hobson '46
Gloria McLendon Houston '62

1999

Jennie McBride Boger '29
Marjorie Crisp '34
Bob Hamp Greene '57 '61
C. Owen Phillips '68
Jay M. Robinson '50