These requirements are now in effect for the 2021-2022 Academic year.
Be a teacher!
Appalachian students who are interested in becoming educators are required to apply to Teacher Education.
Deadlines for Students Seeking Admission to Teacher Education
Candidates seeking admission to Teacher Education must submit an application by August 1st for Fall admission or January 1st for Spring admission. Required Praxis scores, criminal background check approvals must be received and prerequisites met prior to submission of Teacher Education application. Students enrolled in Summer II prerequisite courses must submit Teacher Education application within 3 business days of final grades being posted to be considered for Fall admission.
August 1 - Deadline to submit a teacher education application for any Fall Course
January 1 - Deadline to submit a teacher education application for any Spring Course
Application Pre-requisites
In order to apply, you must meet all of the pre-requisites:
Passing Praxis CORE test or being exempted (based on SAT or ACT scores) (Licensure Testing Requirements)
A current Criminal Background Check (within 6 months of your application)
Cumulative GPA of 2.7 or higher (on a minimum of 12 semester hours of courses completed at Appalachian)
45 semester hours or more
A minimum grade of "C" (2.0) must be earned in RC 1000, FDN 2400, & CI 2300
*New Professional Education CORE (EDU 2000 & EDU 2100)
No Grades of Incomplete
Attend a First Steps to Teaching meeting PRIOR to submitting their application.
Test Scores
The required test for admission to Teacher Education is called the Praxis CORE. Please note that some students are exempt from this requirement thanks to their SAT or ACT scores:
Praxis CORE Passing Scores
Reading: 156 or higher
Writing: 162 or higher
Math: 150 or higher
Combined: 468 or higher
SAT & ACT Scores (for exemption)
If you took the new SAT after March 2016:
1170 or higher on the SAT combined Evidence-Based Reading/Writing and Math (Optional essay scores are not counted)
If you took the old SAT before March 2016:
1100 or higher on the SAT combined Verbal and Math (Writing scores are not counted)

If you took the ACT:
24 or higher Composite score

NOTES
If you did not earn a SAT or ACT exemption score, you may still be exempt from one or two sections of the test:
Praxis CORE Reading and Writing exemption

Old SAT Verbal score of 550 or higher
New SAT Evidence-Based Reading/Writing score of 600 or higher
ACT English score of 24 or higher

Praxis CORE Math exemption

Old SAT Math score of 550 or higher
New SAT Math score of 570 or higher
ACT Math score of 24 or higher
*The old SAT Writing score is not considered in either the total SAT score nor is it a way to be exempted from the Praxis CORE Writing.
**ACT and SAT scores cannot be combined according to NC state policy.
Questions? Visit the James Center for Student Success and Advising Praxis CORE page for assistance.
Application Instructions
Log-in to AppalNet.
Select the "Student" tab
Select the "RCOE Student Services" link
Select "Application for Teacher Education"
If you have not met all of the pre-requisites, your AppalNET account will show what is missing. (if this is the case, you will need to contact your advisor, listed on your account) For a visual aid see the below application.
If you meet all of the prerequisites, simply click submit. This will forward your application to your advisor. You will also receive an email acknowledging the submission of your application.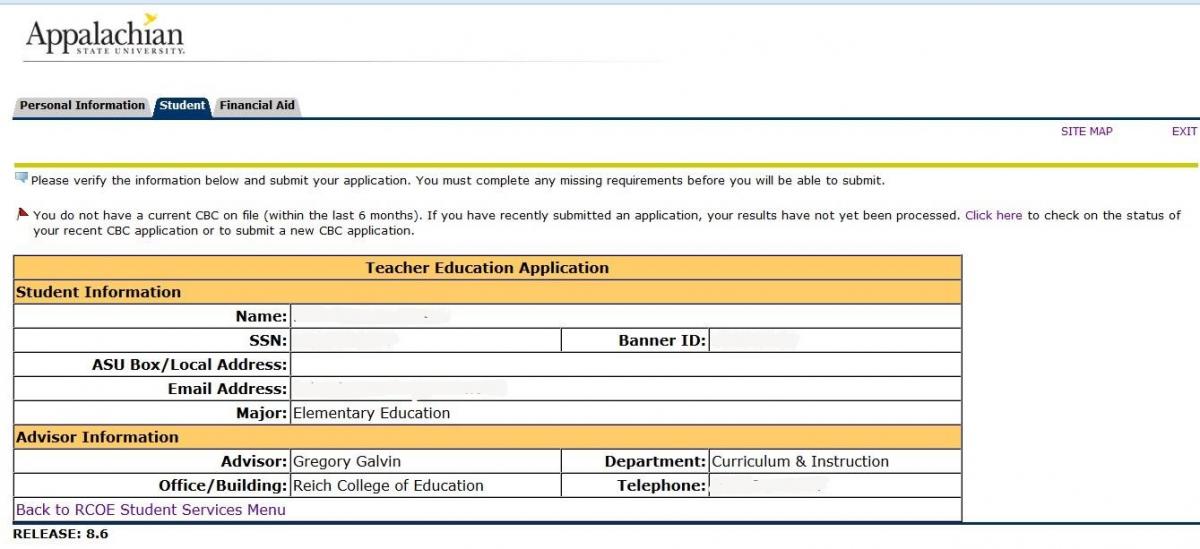 To check the status of your Teacher Education Application
Complete steps 1-4 above. Your screen will indicate your application status as pending if it has been submitted successfully.

Questions: Contact licensure@appstate.edu